HTC Desire 816 battery life tested, decent enough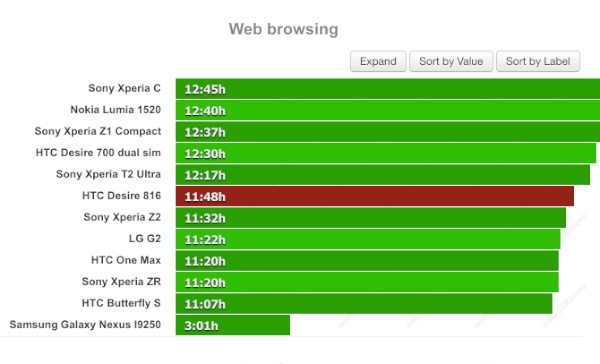 The HTC Desire 816 smartphone was recently introduced and is winning plenty of early praise. The battery life of a phone is one of the most important factors for many people when choosing a new handset, and now we have details of HTC Desire 816 battery life testing.
The Desire 816 is a mid-range phablet with a large 5.5-inch display and a 2600 mAh battery to juice it. GSMArena recently tested the phone's battery life in various ways, and overall the Desire 816 performed fairly well, although better in some areas than others.
For web browsing the Desire 816 managed 11.48 hours, placing it near the top of the tree against many other devices. The only phones above it on this score were the Sony Xperia C, Nokia Lumia 1520, Sony Xperia Z1 Compact, HTC Desire 700 Dual SIM, and Sony Xperia T2 Ultra.
When concentrating on video playback the Desire 816 lasted for 10.34 hours, so although it didn't particularly excel in this area it was still fairly high up the table with many devices lower. Finally the battery life was tested for talk time, and this time the Desire 816 didn't perform so well lasting 14.46 hours. While this sounds decent enough it was much further down the table compared to many other devices, with some of its main competitors doing much better.
You can check out the full results of the Desire 816 against numerous other devices at the source link below. The three different tables shown there can be expanded simply by hitting the 'expand' tab above each section, so that you can get the full picture.
Overall, the HTC Desire 816 seems to have a pretty decent battery life, but a larger battery capacity would have made the phone even more desirable. You might also be interested in a recent comparison of the Desire 816 against the HTC One M8 or a review of the phone that was pretty favourable.
Source: GSMArena