HTC One Mini 2 release date prospect for UK: Updated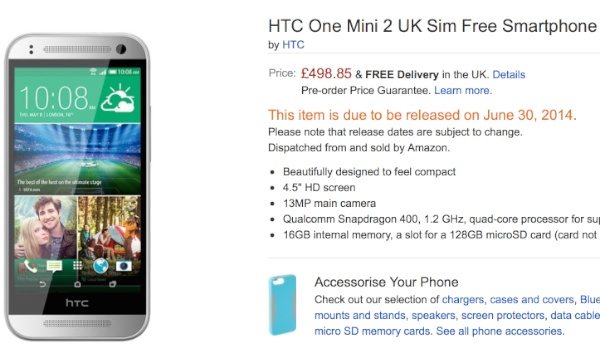 The HTC One Mini 2 was recently made official and is this year's smaller version of the new HTC One M8. At the launch we knew the phone would be arriving in the summer but no specific date was given. Now there's an HTC One mini 2 release date prospect for the UK following an Amazon listing.
The giant online retailer now has the HTC One mini 2 SIM-free version up for pre-order at £498.85, which seems pretty costly. However, it's worth bearing in mind that early pricing on retailer sites sometimes changes by the time the device is released.
The important thing to observe from the listing is that the One mini 2 is given a release date of June 30th. While this isn't set in stone, it certainly could be accurate, and so it looks as though the end of June is the likely availability date. We'll keep you informed when we hear more.
In the meantime you might like to check out a recent comparison that shows the advantage of the HTC One mini 2 over the original HTC One mini. Are you thinking of buying the HTC One mini 2?
UPDATE: The phone has become available much earlier than anticipated (see details here)