Nexus 8 design has camera specs to impress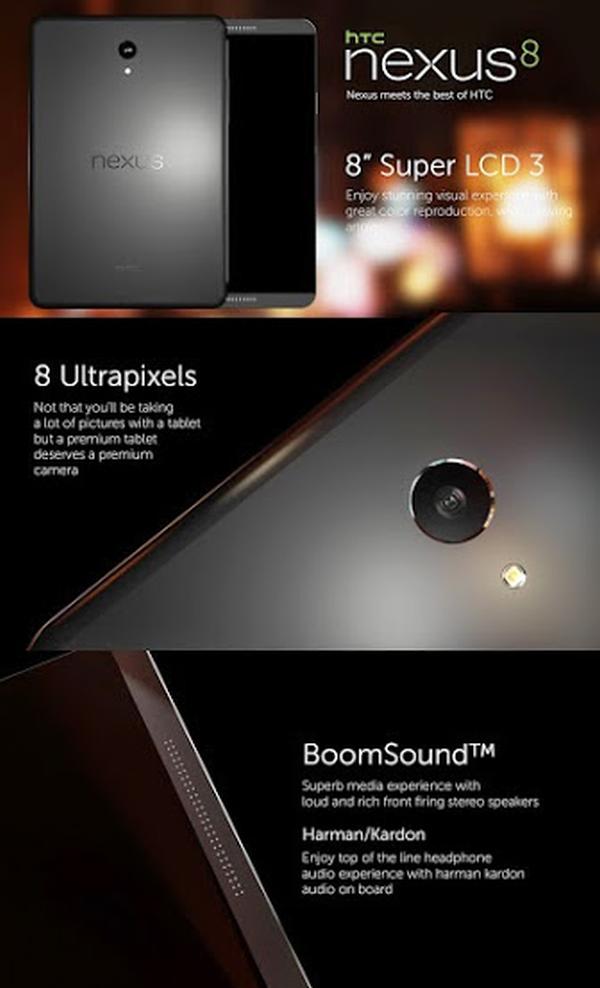 There have been a lot of rumours surrounding the Nexus series of hardware over the last few months with talk that Android Silver will be replacing it next year, and today we have a Nexus 8 design for you that has camera specs to impress.
We have been hearing a lot of speculation about an upcoming Nexus 8 tablet PC being in development with possible sightings via online code, and we were recently treated to an image that was claimed to be the device which if true wasn't pleasing to the eye.
Today we have a press render concept that is a Nexus 8 manufactured by HTC that has an 8-inch Super LCD 3 panel, which is surely at least Full HD resolution. The rear camera is an 8MP UltraPixel unit that seems a little farfetched, and audio is provided by Harman/Kardon speakers coupled with Boom Sound technology.
It seems to have a metal construction but we will have to wait for any official unveiling before we will know for sure if there is a Nexus 8 in the pipeline.
Would you buy a Nexus 8 looking like this?
Source: Google+ via Concept Phones.