Claimed iPhone 6 pictured with Galaxy S5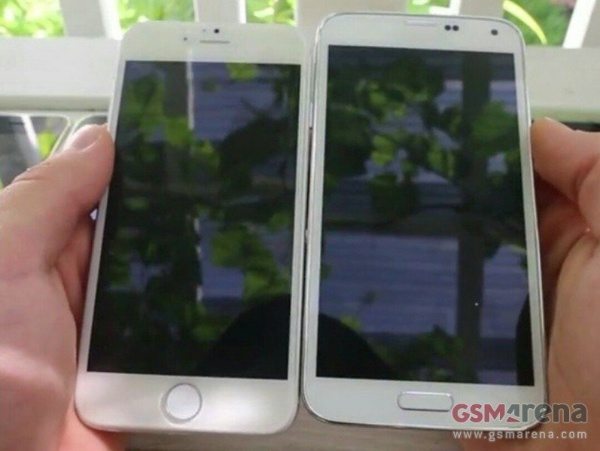 Excitement is building nicely for the next iPhone and there have been an increasing amount of leaks about the Apple iPhone 6, which is expected to release in fall in two different sizes. Just a few days ago we showed readers an image leak purported to be of the real iPhone 6 and which was rather more credible than some of the leaks we've seen. Now another image has come to light that claims to be the iPhone 6 pictured alongside the Galaxy S5.
We've already seen dummies and prototype models of the iPhone 6 on several occasions, but the image we showed recently (see here) was more interesting than some of the leaks we see. This is because it came from well-known Taiwan personality Jimmy Lin who last year revealed the upcoming iPhone 5C, which turned out to be accurate.
The latest leaked image we're sharing today shows an iPhone 6 that ties in very neatly with the previous image from Jimmy Lin, this time shown with the Samsung flagship phone. From this image it appears that the bezels on the sides of the display of the iPhone 6 are slimmer than that of the Galaxy S5, although the top and bottom bezels of the S5 don't look quite as large as those on the claimed iPhone.
If this is authentically the iPhone 6 it does have echoes of the design of the iPod touch, something that has been previously rumored, and veers towards more rounded edges on the handset. Assuming this is the real deal, is the design of the iPhone 6 something that you're happy with?
The Apple iPhone 6 is expected to appear in two different sized models, one at 4.7-inches and the other at 5.5-inches, at least one of which is anticipated to release in fall. It has previously been speculated that the larger phablet version may be delayed because of a battery supply issue, although it was recently reported that this problem had been resolved.
We'll be following all of the latest news and leaks about the iPhone 6 and in the meantime we'd be interested to hear your thoughts, so why not drop us a comment using the box below.
Source: GSMArena