Nexus 5 shown with possible Android 5.0 teaser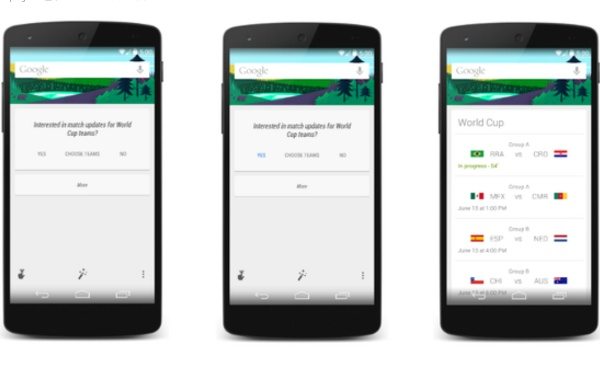 Now here's an interesting snippet for a Friday morning and it concerns the next major Android operating system upgrade. A Nexus 5 has been shown with a possible Android 5.0 teaser, raising some tantalizing possibilities for what may be revealed at Google's upcoming I/O conference.
Enthusiasts of the Android platform may have noticed a traditional pattern with teasers about the next update being planted by Google. In the past we've seen what appear to be innocuous images released of software or a device, where the clock shown gives hints for the next Android version number.
This habit started with Android 2.3 Gingerbread, and if you look now in the Google Play Store you'll see clocks on the device images set to 4:40, representing Android 4.4 that they are currently shipped with. Now a new image has been posted on the official Google Twitter account showing a Nexus 5 running Google Now. It was used to show off a new feature for World Cup match scores and more.
The intriguing part of the story is that the devices in the image (shown below) are now reading 5:00, leading to speculation about the possibility of Android 5.0 being announced at Google I/O 2014, which takes part on June 25 and 26. As 5.0 will be a notable upgrade we're likely to see UI updates, and we've already seem some design renders with ideas of what could be on offer.
Presently Android 4.4.3 is being pushed out for a growing amount of devices, although we don't know yet whether there will be more interim updates before Android 5.0 eventually releases. Would you like to think that the new image showing 5:00 as the time on a Nexus 5 means that Android 5.0 may be introduced at Google I/O? Maybe you think this is putting 2 and 2 together and making 5 (excuse the pun)! Let us know by sending your comments.
Source: Google (Twitter)
Via: Phone Arena