Sony Xperia Z3 could be model D6653 spot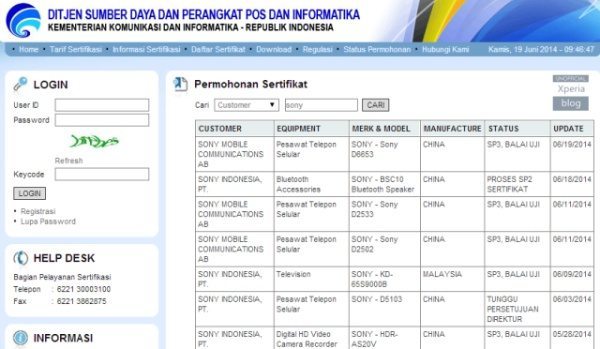 In the mobile world no sooner has a flagship device been released than speculation turns to the next version of it. That's exactly what has happened with the Sony Xperia Z2, which is still making its way into the hands of buyers worldwide as rumors and leaks already emerge about the Z3. The latest leak suggests that the Sony Xperia Z3 could be model D6653, which has been spotted on a regulatory site.
In February this year Sony stated that certain devices would be updated every six months, and the Xperia Z2 then ended up being released around six months after the Z1. Following this in May there were rumors that the Z3 could be released as early as August and would have a Snapdragon 805 processor. However, earlier this month the latest leak suggested the Snapdragon 801 chip was more likely to be used and the same source gave a September launch date and news of a new design.
The Xperia Z2 that arrived this year has various model numbers that all begin with the digits D65, the D6502, D6503 and D6543. Earlier this year the model number D6603 made an appearance in a benchmark, sporting similar specs to that of the Xperia Z2 when it was finally made official. Now another model beginning with D66 has emerged on the Postel Indonesian regulatory website, this time the D6653.
When phones appear on the Postel site they usually end up being released in the future, so this has thrown up the possibility that the D6653 could be the Sony Xperia Z3, or perhaps a variant of it, in the same way that the D6563 (Xperia Z2a) is related to the Xperia Z2. At this point it's a case of wait and see but hopefully not for too much longer.
IFA 2014 takes place in September and we anticipate that new Sony devices will be unveiled at the event in Berlin. Meanwhile there are bound to be many more leaks on the phone before it is made official and we'll be keeping you informed. Are you already interested in the Sony Xperia Z3?
Source: Postel.go.id
Via: Xperia Blog