Samsung Galaxy Note 4 benchmark appearance gives specs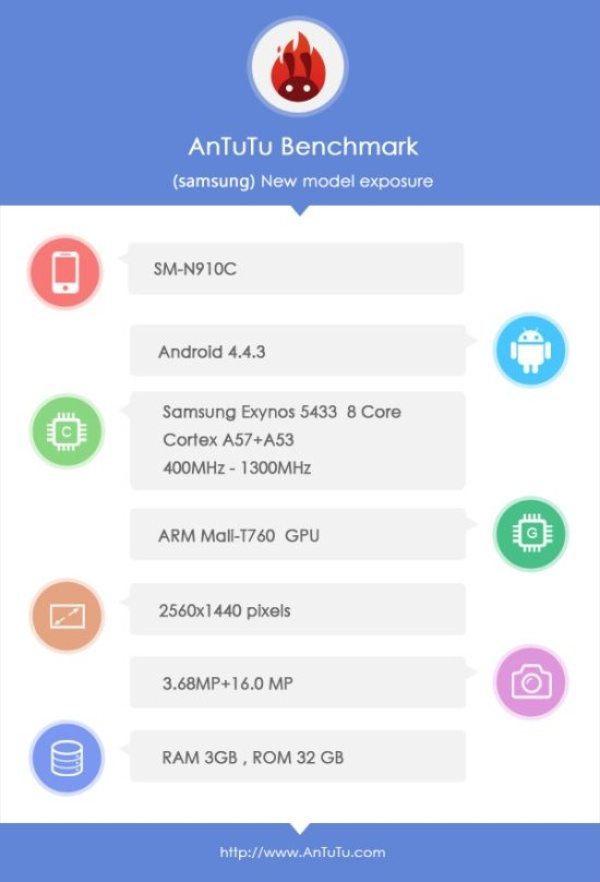 One of the most eagerly anticipated devices of the year is the Samsung Galaxy Note 4 smartphone. This phablet device has already been the subject of numerous leaks and rumors and there are likely to be many more before its eventual release later this year. The latest news is of Samsung Galaxy Note 4 benchmark appearances for two different models of the phone, giving details of specs.
Earlier this month a leak claimed that the Galaxy Note 4 would have a model number of N910. The same source claimed that there would be a widespread release of the phone to different world regions (as we already anticipated), and also said that different models would be powered by either the Samsung Exynos 5433 or Qualcomm Snapdragon 805 processor.
More recently there was a leak regarding model number SM-N910A with a 5.7-inch display that appeared in a User Agent profile. Now the Note 4 has shown up in AnTuTu benchmarking, listing a nice variety of top-notch specs for the upcoming device.
One of the models that appeared has model number SM-N910C and this one has an Exynos 5433 octa-core processor with ARM Mali-T760 graphics. The other model is SM-N910S and sports a 2.5GHz Qualcomm Snapdragon 805 processor with Adreno 420 graphics.
Other specs for both include display resolution of 2560 x 1440, 3GB of RAM and 32GB of internal storage. There's also a 16-megapixel rear camera and a 3.6-megapixel front-facing unit (this could be improved further by the time of release). The operating system showing on the benchmark database is Android 4.4.3 KitKat.
The above specs are likely to please many of those people waiting for the Galaxy Note 4 release, which is expected to take place around September time. While we wait for more news and leaks on this device you might want to check out some reported features for the Note 4 or any of our many other articles on the phone so far at this link.
What are your thoughts on these leaked benchmark listings for the Samsung Galaxy Note 4 and the specs that are shown? Are you satisfied by what you've heard so far or have you something on your own personal wish list that you'd like to see on the Note 4? Drop us a comment to let us know.