Samsung Galaxy Tab S 8.4 review, worthy flagship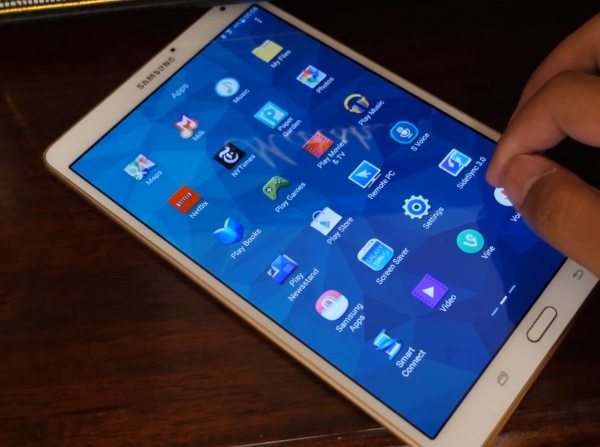 Earlier this month Samsung officially unveiled the Galaxy Tab S tablet in 8.4 and 10.5-inch sizes. We've previously given specs and price details for the Galaxy Tab S and now we want to show you a Samsung Galaxy Tab S 8.4 review that may help you to decide if this will be your next tablet buy.
The Galaxy Tab S has high-end specs that include a Super AMOLED display with resolution of 2560 x 1440, and as this type of display is very slim it means that the Galaxy Tab S 8.4 is only 6.6mm thick. We've previously shown a video that compared the strongest points of the Galaxy Tab S 8.4 and Retina iPad mini, and it's now time for a full review.
The YouTube video that we have for your viewing pleasure below this story comes from Android Authority and gives a really good idea of what the tablet offers as well as the opportunity for some close-up looks at the device. The first aspect concentrated on is the design of the Tab S 8.4 and one of the first things apparent is just how slim it is.
The video then focuses on more factors starting with the display, that unsurprisingly receives a lot of positivity, before covering areas such as performance, hardware, the camera capabilities, software experience and finally pricing. In the wrapping up the Galaxy Tab S 8.4 is said to deserve the title of flagship over other Samsung tablets, as it has plenty of benefits.
The reviewer also mentions a couple of contenders as being the Google Nexus 7 and LG G Pad, but neither of these has the Super AMOLED display of the Galaxy Tab S 8.4 that earns such high praise. We don't want to spoil the reviewer's ultimate conclusion about this tablet, as you might want to find that out for yourself when you watch the video below. However, it does look as though the Tab S 8.4 will be a popular tablet.
Are you considering purchasing this device, and if so has the review helped you to make your mind up? Do you think the Samsung Galaxy Tab S 8.4 is the right tablet for you?