Nexus 5 in yellow color could still appear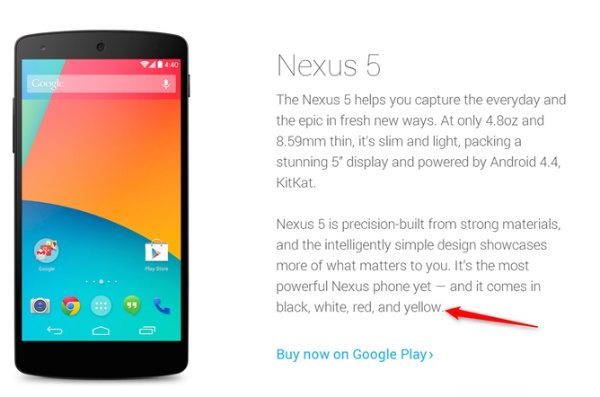 The Google Nexus 5 made by LG is a hugely popular smartphone that released in November last year. It released in black or white color options and a red version then joined the lineup. Some time ago there were indicators that more colors would soon be offered including a yellow model, but then all went quiet. However, the Nexus 5 in yellow could still appear according to a recent website spot.
It was in January that we informed readers of a leak that suggested the Nexus 5 could also be arriving in more color choices. This was before the red option was made official and that was one of the colors leaked, while some of the other colors included yellow, blue and green. Now we can tell you that the yellow color has again popped up in the phone's description on the official Android website.
The website mentioned the three available colors for the Nexus 5, black, white and red, as well as a fourth yellow option, as you can see in the screenshot image shown here. However, the mention has since been removed, so it's not clear whether this was an unintentional leak of a new upcoming model color or whether it was simply a mistake.
A bright yellow bumper case for the phone is already available from the Google Play Store and if a yellow Nexus 5 is on the way it could match this color. It may not be everybody's style to sport a vivid yellow smartphone but no doubt there will be some people who would love the extra choice if this comes to fruition. Would you be interested in the LG Nexus 5 in yellow? Drop us a comment to let us know.
Source: Android Police