LG G Watch vs Samsung Gear Live initial comparison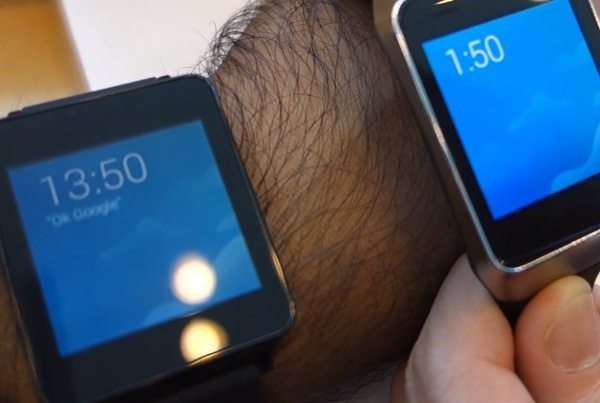 With the increasing popularity of wearable technology devices there are two new smartwatches that are just about to release that may interest many potential buyers. The LG G Watch and Samsung Gear Live were both shown off at Google I/O and today we have an initial comparison of the LG G Watch vs. Samsung Gear Live on video.
We gave some details and pricing for both of these smart watches previously and you can check those out at these LG G Watch and Gear Live links, with the Gear Live being the more affordable of the two. We've also shared a video comparing the G Watch with the Samsung Gear 2 watch that is already available.
Key specs for the LG G Watch include a Qualcomm Snapdragon 400 processor, 1.65-inch IPS LCD display with 280 x 280 resolution, 512MB of RAM, 4GB of internal memory, and a 400 mAh battery. On the other hand the Samsung Gear Live has a 1.2GHz processor, 1.63-inch Super AMOLED display with 320 x 320 resolution, 512MB of RAM, 4GB of internal storage, and a 300 mAh battery.
The short YouTube video that we have embedded beneath this article shows the G Watch up against the Gear Live and comes from Fone Arena. It's an early look at the two watches and it was taken last week at the Google I/O event.
It shows the LG G Watch on the left with the Gear Live on the right and gives a good opportunity to see what the devices look like alongside each other. The video continues by discussing various factors of these devices such as the displays, batteries, the heart rate monitor on the reverse of the Gear Live, processors and more.
After checking out the video comparison below we'd like to know your opinions on these two devices. Do you think the LG G Watch would suit you best, or does the Samsung Gear Live have more appeal to you? Drop us a comment using the box below.