American LG G3 carrier versions leaked in press renders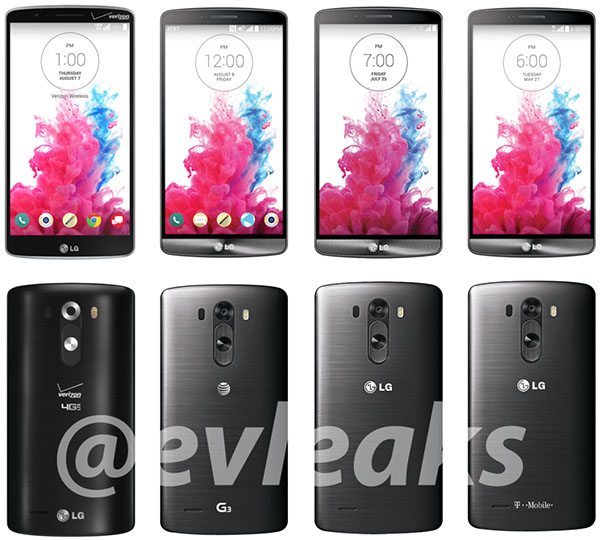 There has been a lot of buzz around the LG G3 lately — aside from the fact that we're already starting to see LG G3 Prime rumors — and, for good reason. The consensus among the media outlets that have reviewed early South Korean units is that the G3 is the best smartphone that the phone-maker has released, being a worthy member of a constantly improving line-up, consisting of the LG G2, G Pro 2, and G-Flex. We've also seen some trademark filing by the company that may, or may not, reveal plans for future G3 variants, like the G3 Beat, G3 Lite (both possible "mini" versions), G3 Vigor, and G3Vista (maybe a Verizon unit).
And, since we mentioned a possible Verizon unit, press renders of all upcoming US carrier versions have been leaked by famous leakster evleaks. The phone is not currently available in the US, unless you import it from another market, but, judging by these press release leaks attached, they shouldn't be far out. From left to right, we're seeing the LG G3 rendered for Verizon, AT&T, Sprint, and T-Mobile. While all of them carry some sort of manufacturer and/or carrier branding, the only one that appears to look exactly like the unbranded/international/global version is the one for Sprint (second from the right).
And, while we're at it analyzing these press renders, we can't help but notice the darker shade on the upcoming Verizon unit, which appears to be pitch black, just like Sprint's Harman Kardon edition of the HTC One M8. There are no other details included with the leak, but we can't help but wonder which of the stock features will be removed by US carriers. Will it be the wireless charging support, like we've seen many times in the past? Also, the LG G3 comes in two flavors: one with 2GB of RAM and 16Gb of internal storage, and one with 3GB of RAM, and 32GB of internal storage. It will be interesting to see which US carriers will pick the highest end (or both), and which will go for the standard version. The Quad HD screen will most definitely be kept, as the LG G3's main selling point, alongside the laser-auto-focus assisted camera on the back.
Source: Twitter