iOS 7.1.3 release to include fix from 7.1.2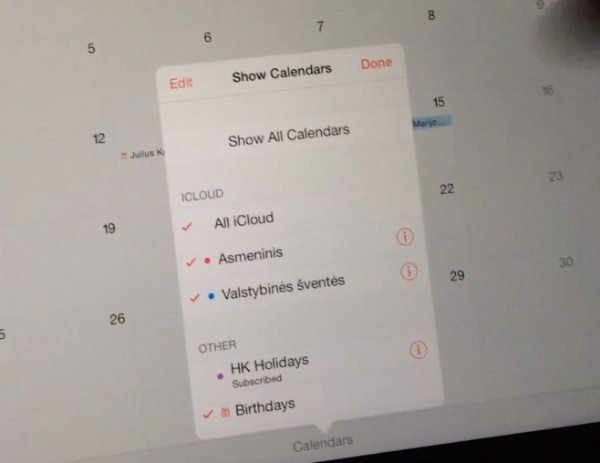 The Apple iOS 7.1.2 update released recently and at that time we discussed how some iOS device users were hoping it would solve problems that arose from the previous update. However, it soon became apparent that some people were still facing issues with battery drain. Now we have learned that an iOS 7.1.3 release is on the way, although it looks as though this is focused on a fix for another issue that came with iOS 7.1.2.
A few days ago we wrote about whether we would be seeing iOS 7.1.3 or iOS 8 next. iOS 8 is due for a public release in fall and is currently in beta, and we anticipated that if we were to see another update in the form of 7.1.3, it would only occur if a bug fix was necessary or for security issues.
Now it's reported that a problem has been spotted by an iPhone 5S and iPad Air user in Lithuania who noticed that the wrong regional holidays were shown on his calendar application after the iOS 7.1.2 update. Although he had set the correct region he was seeing holidays for Canada, Hong Kong and Mexico.
This user then tried changing the settings to other locations including the UK, US and Russia, and found the correct holidays then showed. Following this he posted a video on YouTube depicting the issue and emailed Apple. His reply from Apple acknowledged that there was a calendar bug and said that this is a software issue that will be resolved with another update.
We'll be expecting news on a release of iOS 7.1.3 before too much longer then, although Apple hasn't yet specified when this next update will arrive. You can check out the YouTube video that we've embedded below this story, to see the issue with the calendar app for yourselves.
Of course it remains to be seen if iOS 7.1.3 will solve the problem with battery drain that some readers have reported to us, and which some of us at Phones Review have noticed on our own devices. We'd be interested to know if you have observed any other issues that followed the iOS 7.1.2 update? Are you pleased to hear that Apple should soon release iOS 7.1.3?
Source: Phone Arena