New Nexus 8 evidence appears on listing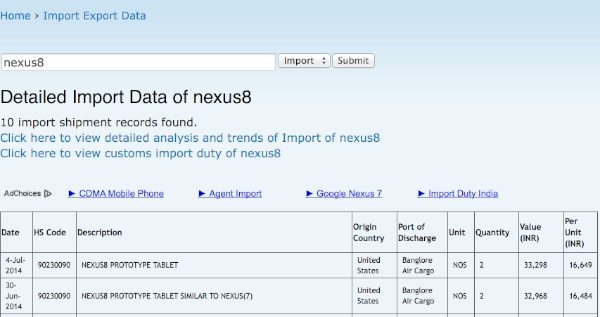 We've been seeing plenty of indications of a Google Nexus 8 release this year, although nothing has been made official about this device yet. Many people are hoping for this slightly larger Nexus tablet after the popularity of the Nexus 7, and now there's further evidence of its existence as the Nexus 8 appears on an import listing.
There have been rumors of a Nexus 8 tablet almost since the arrival of the Nexus 7 (2013). In recent weeks we've seen an online code hint, a leaked image that was purported to be of the actual device with some specs (not altogether convincing), and more recently the prospect of an HTC Nexus 8.
Many people were hoping to see it introduced at Google I/O but there was nothing mentioned, but now a further piece of news has come to light about the tablet. We often see clues about upcoming devices showing up on Zauba, an Indian import website, and now the site has listed a Nexus 8 prototype as being imported from the US. The quantity listed is just two units and the value (not retail price) is put at Rs. 16,649 per unit (around £162 /$277).
Rather strangely after this initial listing a further two units of a Nexus 8 prototype are also shown, this time with the words "similar to Nexus (7)." This could mean that it is made by the same manufacturer or is similar in design, but that reference is clouded in mystery for now.
Unfortunately the appearance of the Nexus 8 on Zauba doesn't disclose any specs for the device, but the fact that prototypes are being imported for testing further reinforces that the Nexus 8 is still in the pipeline. It's widely believed that the Nexus 8 will launch later this year, although as with all of these kinds of rumors we should remind you that none of this has been confirmed.
Are you waiting avidly for Google to make the Nexus 8 official? What particular specs and features are you hoping to see on the next Nexus tablet? We're always interested to hear from readers, so do let us know with your comments.
Source: Zauba
Via: Phone Arena