Sony Xperia Z3 shows up in benchmark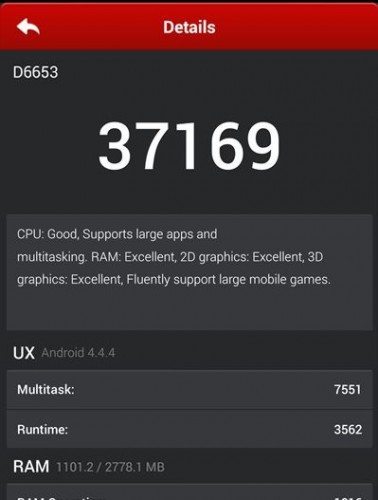 The Sony Xperia Z2 is barely five months old, and we're already seeing a lot of leaks, in addition to hearing just as many rumors, about the upcoming flagship, the Sony Xperia Z3. We have recently seen images in which the Xperia Z2's successor is allegedly pictured, and said phone has already started receiving some of its certifications earlier. All these, in addition to a recently leaked screenshot which claims be snapped off of the Xperia Z3. Said screenshot mentioned the model name D6653, which is attributed to the upcoming Xperia Z3, in addition to Android 4.4.4 KitKat as the platform of choice, and the Qualcomm MSM8974PRO-AC SoC at the core of the phone.
Fast forward to today, and we're seeing more Xperia Z3 leaks. Of course, you need to treat everything here, and above, with a grain of salt, as usual with leaks like these. An AnTuTu benchmark seems to reveal a 37169 score for a Sony phone which is identified as the D6653. As we've previously learned, this model name is attributed to the upcoming Xperia Z3. This means that the phone is either being tested somewhere, or we're dealing with a hoax.
Just in case this is the real deal, the AnTuTu benchmark mentions the same processor and Android version, like in the leaked screenshot. The Qualcomm MSM8974PRO-AC processor should be clocked at 2.5GHz, just a tad higher than the one on the Xperia Z2, which uses a 2.3GHz Qualcomm MSM8974AB SoC.
There's quite a debate concerning this D6653 phone. While some believe that this will indeed be the Xperia Z3 — also judging by the model number — others tend to believe we might be looking at another phone, either a slightly improved Xperia Z2 for a specific market, or, maybe, a follow-up to the Xperia Z Ultra.
Sony unveiled the current flagship, the Xperia Z2, at the 2014 MWC in Barcelona and, while committing to releasing a flagship every six months. This means that next month, in August, we should expect another flagship from Sony, which might indeed be (or not) the D6653 we're seeing mentioned above. In any case, we'll definitely let you know more as soon as we find out details.
Source: GSMInsider
Via: PhoneArena