Sony Xperia Z3 certifications could be in progress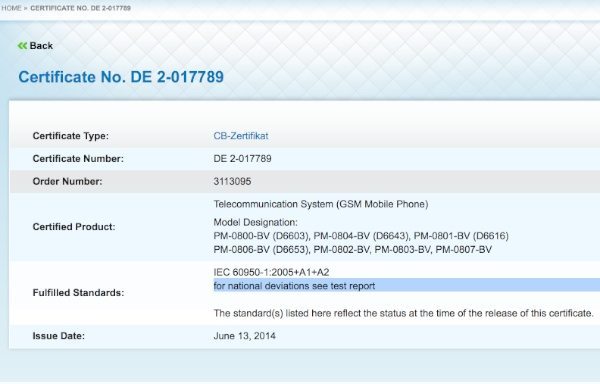 There's growing interest at the moment about the next Sony flagship, the Sony Xperia Z3. Although the Xperia Z2 only released a short time ago all the indications are that the Z3 release release is coming this year, with September looking to be a likely month. Now there are reports suggesting that Sony Xperia Z3 certifications are in progress already.
In early June we reported on a leak that said a new design was on the way and that the Xperia Z3 would sport a Snapdragon 801 processor, although earlier rumors suggested the Snapdragon 805 variety. A week ago we also passed on news of two possible model numbers for the Xperia Z3, D6603 and D6653. Now an unnamed Sony smartphone has shown up in TÃœV Rheinland certification, (known for device safety and quality tests).
This unannounced Sony handset has a several model numbers that could be different varieties of the Sony Xperia Z3. These model numbers are PM-0800-BV (D6603), PM-0804-BV (D6643), PM-0801-BV (D6616), PM-0806-BV (D6653), PM-0802-BV, PM-0803-BV, and PM-0807-BV. The interesting thing here are that two of these correspond with the previously leaked version numbers of the Z3 that we mentioned earlier.
When we consider that the Xperia Z2 model numbers all begin with D65 it certainly looks plausible that the above numbers beginning with D66 could be for the Xperia Z3. If this is the case and the phone is already going through certification processes then it ties in with the September launch time that many of us are anticipating.
We'll bring you further news on the Z3 as we hear it, and in the meantime we'd like to know your thoughts about the phone. Maybe you were considering purchasing the Xperia Z2 but may now wait to see if the Sony Xperia Z3 will be made official in a few months time?
Source: TÃœV Rheinland
Via Phone Arena