Sony Xperia Z1s on T-Mobile gets Android 4.4 KitKat update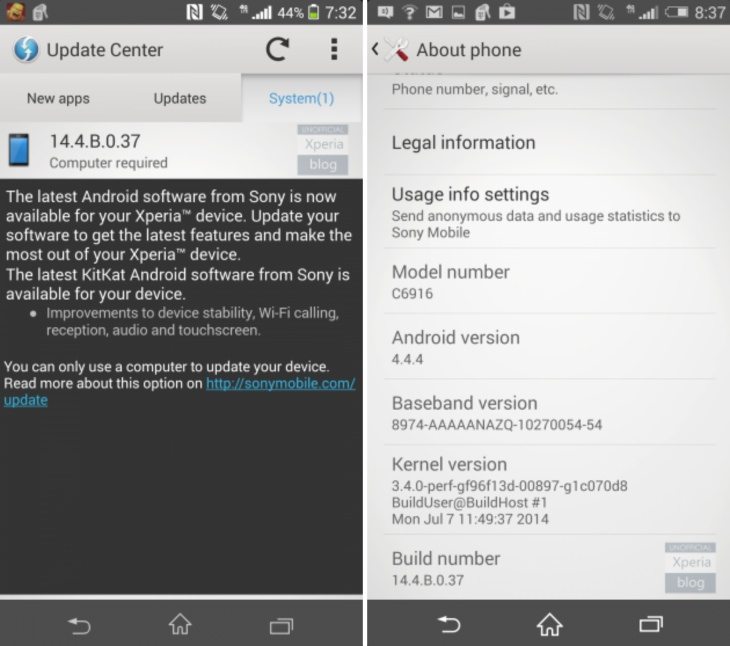 We've been following the progress of the Android 4.4 update for various devices since it began rolling out last year, and today there's good news for T-Mobile owners of the Sony Xperia Z1s. After languishing on Android 4.3 Jelly Bean, the Sony Xperia Z1s on T-Mobile is now getting the Android 4.4.4 KitKat update.
Back in April we saw some indications that the Android 4.4 update was on its way for the T-Mobile Sony Xperia Z1s, and at that time we thought it was likely to roll out soon. All went quiet then until June when we reported on firmware certification for the update for the Xperia Z1s.
It's certainly a case of better late than never, but we're pleased to be able to inform readers that the KitKat update for the Z1s on T-Mobile (model number C6916) is finally starting to roll out. The update brings it to version Android 4.4.4 with build number 14.4.B.0.37 as you can see on the screenshot shown here.
This is a notable upgrade that brings new features and improvements to the Xperia Z1s. Just a few of these are new-look Status Bar and Quick Settings, a transparent navigation bar, and added boot animations. As usual we'll remind readers that these update are usually rolled out over several days so if you don't receive notification straight away you may need to be a little patient.
If you have the Sony Xperia Z1s on T-Mobile we'd be interested to hear from you. Are you pleased to see that Android KitKat is finally on its way to your handset? If your Z1s has already received the update it would be good to know what you think of the changes it brings?
Source: Xperia Blog