iPhone 6L shell allegedly compared to iPhone 6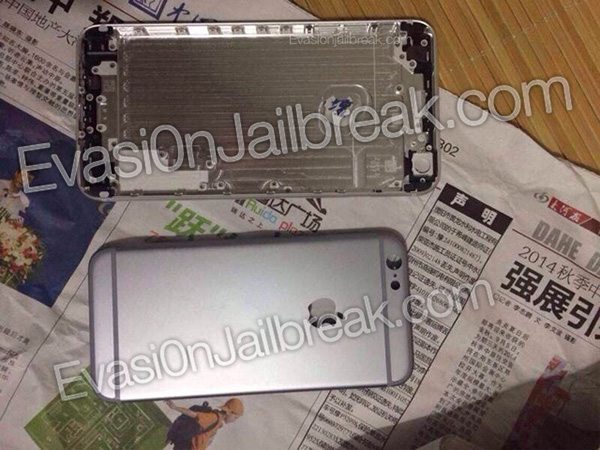 A little more than two weeks, that's how long we have to wait until all the iPhone rumors will finally stop. September 9 is when Apple will allegedly hold its historical Q3 event, where the company unveils its smartphone line-up. For this year, we are expecting two iPhones, according to rumors, just like last year, when 2013 saw the iPhone 5s (an improved version of the iPhone 5), and an iPhone 5c (basically the iPhone 5s in a plastic, colorful body). The two iPhones for this year will allegedly have larger screens, with the smallest one (tentatively called the iPhone 6) being equipped with a 4.7-inch display, and the larger one (for now, referred to as the iPhone 6L), with a 5.5-inch display.
We have recently seen a set of photos claiming to depict the iPhone 6 (that's the 4.7-inch version). Said photographs were snapped off of a device that resulted after joining the back and the front components for the first time. Also, more recently, we've seen rumors that the iPhone 6 will be even thinner than the iPhone 5s, a fact that may be causing its camera on the back to protrude beyond the back shell. Of course, these are all rumors and reports, and you should treat them accordingly, with the usual dose of skepticism.
That's exactly the way you should treat this rumor right here, containing some photos, claiming to depict the back of the iPhone 6L (that's the larger version, at 5.5-inches). Said component you're seeing in the photos attached is allegedly received straight from the supply chain, but this is a bit of information which can't be verified at the moment. However, the phone shell appears to match the leaks and rumors we've seen and heard previously, so this might (or might not) turn out to be true.
According to rumors — though there are conflicting reports — only the larger iPhone, the iPhone 6L, will feature a sapphire protection for the screen. Said larger iPhone 6L will also have a spec-bump in terms of the battery powering it, something which is normal, due to the extra space, and the larger screen that will consume more power. The images attached also claim to depict both 2014 iPhone models' back shells, so you can easily size them up. September 9 can't come soon enough; we're hoping the rumor mill will stop, at least for a little time.