Moto G and Moto X+1 show up on Brazilian Retailers Site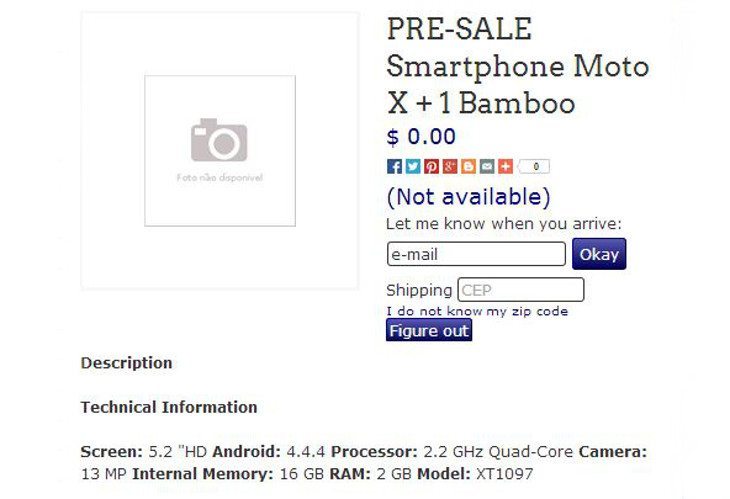 We got a massive leak yesterday when we saw new pics of the Moto X+1, and today we've gotten another juicy leak from a Brazilian retailer that has listed the Moto G and the Moto X+1 on their website.
Livaria Logos is the name of the site that's listed the two new Moto handsets, and it's not their first time with an early leak as they did the same to the Moto E, and previously posted the Moto X+1 specs as well. Well, the Moto X+1 has shown up again, but it's the new Moto G "TitaN' with it this time around.
The Moto G is listed with the model number XT1069, and it shown to come with a 1.2GHz processor, 1GB of RAM, 16GB of internal storage and an 8MP rear camera. It's shown to be a dual-SIM device and will run Android 4.4.4 straight out of the box. It should also get the Android L update rather quickly considering it's a Moto device.
As for the Moto X+1, the listing confirms what we already knew which means the device is basically a lock to have a 2.2GHz SoC, 2GB of RAM and a 5.2-inch FHD display. A 13MP rear camera was listed, and you can expect the latest version of Android as well. There are three different versions shown with Bamboo, Black and Leather backplates.
We won't have long to wait until we find out what Motorola has in store for us, and there have even been rumors of seven new smartphones tipped for a release at IFA. If you're a fan of Moto, you'll have a lot of options this year, let's just hope the specs bump and full court press from Motorola doesn't come with a higher price tag.
Via – Droid-Life