iPhone 6 compared to iPhone 5 in these photos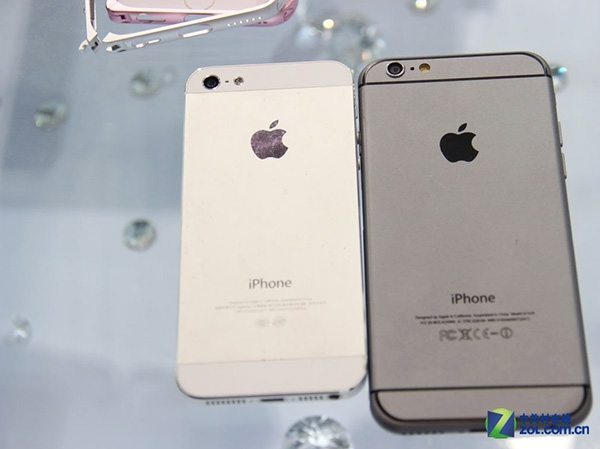 The last time we heard about the iPhone6 — because the rumor mill is in full motion and there's a report almost every day now — was yesterday, when we saw some alleged pictures of the upcoming Apple phone. Said report was also referring to a possible launch event in the second half of next month — September — which is contrary to previous reports that claimed September 9 for the official unveiling of the iPhone. Whether those images were the real deal or not — as well as the launch date circulated — is anybody's guess, until Tim Cook takes the stage and makes the phone (or phones, as reports claim there will be two) official.
A couple of images (attached to this post, as well as some more at the source link below) have leaked today, claiming to compare the upcoming iPhone 6 with the iPhone 5. Judging be the size of the claimed iPhone 6, we're likely looking at the smaller version (tentatively named the iPhone 6, which will, according to reports, feature a 4.7-inch screen), but we could be wrong, as there's no information about what we are actually seeing (though we find it hard to believe that the iPhone 6L — tentative name — with a 5.5-inch screen would end up being this small). It is also unknown whether this is a mockup unit, a dummy, a pre-production model, one that has been built from leaked parts, or the final version of the device.
Looking at the pictures comparing the two phones, you will immediately notice the rounded corners of the device claimed to be the next-gen iPhone. Another thing that you will notice is the protruding camera in the back of the claimed 2014 model. We've recently heard reports that the next-generation iPhones will have a small camera protrusion on the back (due mainly to Apple's desire to shave off a couple of millimeters from the phone's thickness), and that appears to be visible in these leaks as well.
Whether it will be September 9, or a later date, we will see at least one iPhone next month, and then the rumors will come to an end. However, some reports claim that the iPhone 6L will be delayed (either on purpose, or not) and the world should expect it towards the end of the year. We'll keep you posted as soon as we hear more! Until then, let us know of your thoughts regarding the pictures attached.