New Moto G price for India and accessories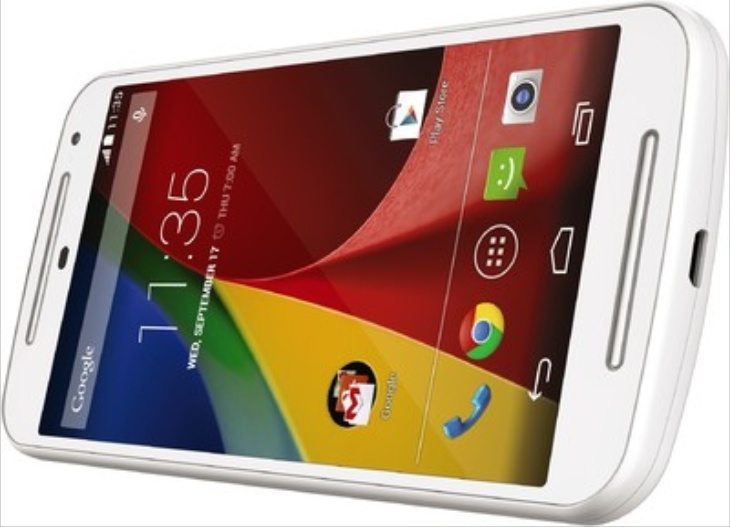 The second-generation Moto G (2014) was officially revealed by Motorola last week. Although it lacks the Moto G2 moniker that many expected it to have, it does offer a slight upgrade over the original Moto G. Now we have information about the new Moto G price for India as well as accessories.
Although we had given US pricing for the Moto G in our launch post (where you can also see specs and more), we now have details of the price for our many readers in India. At the new Moto G launch in India the price was announced at Rs. 12,999. This is for the 16GB Dual SIM model, and we're pleased to say that the phone is already on sale via Flipkart.
Unlike the Xiaomi Redmi 1S, the company doesn't seem to be having any trouble with supplies of the new Motorola phone, as both the white and black color options of the Moto G (2nd Gen) are in stock at the time of writing. We also have news on new Moto G accessories.
Flipkart will be selling the Moto G Flip Cover from September 15 for Rs. 1,700. It will be available in a variety of color options, Chaulk, Cherry, Lemon Lime, Licorice, Turquoise or Violet. A back cover for the Moto G 2014 will also be available priced at Rs. 800. This one is coming in Royal Blue, Chaulk, Cherry, Lemon Lime, Licorice, Turquoise and Violet.
Have you already decided to buy the Moto G (2014)? Maybe you are one of those who have already managed to purchase the phone, in which case you could tell us your first impressions of the new Moto G?
Via: Fone Arena