New Moto G vs Moto X specs breakdown vs price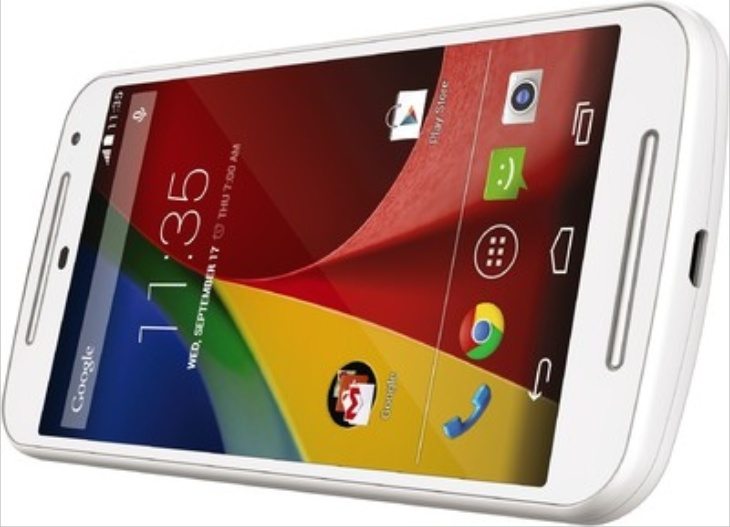 Many new devices have been unveiled over the past week and two that were announced were the Motorola Moto G and Moto X (2014). These are the second-generation versions of the popular originals and will be releasing to various world regions over the coming weeks. Today we have a new Moto G vs. Moto X specs breakdown so that you can see how they compare.
Prices will vary by region but the new Moto X is the superior of the two and has a higher price tag. Hence we cannot expect the specs of the Moto G to stand up to those of the Moto X, but it's interesting to see the differences nevertheless. We'll highlight the key specs to give an idea of how much extra is on offer if you pay more for the Moto X.
Processors
The Moto G 2014 has a 1.2GHz Snapdragon 400 quad-core processor and Adreno 305 graphics. The Moto X 2014 has a 2.5GHz Snapdragon 801 quad-core processor and Adreno 330 GPU.
Display
The Moto G has a 5-inch IPS LCD display with resolution of 1280 x 720 and 294 ppi, whereas the Moto X has a 5.2-inch AMOLED display with 1920 x 1080 resolution resulting in 424 ppi.
RAM and Storage
There's 1GB of RAM and 8 or 16GB of internal storage (expandable via microSD to 32GB) for the Moto G. On the other hand the Moto X has 2GB of RAM and 16 or 32GB of internal storage, but this time that's non-expandable.
Camera set-up
The Moto G has an 8-megapixel rear camera with autofocus, LED flash and 720p video capture, and also a 2-megapixel front-facing camera. The Moto X has a 13-megapixel rear camera with autofocus, dual-LED flash, and 2160p video capture, as well as a 2-megapixel front-facing unit.
Battery
There's a non-removable 2070 mAh battery for the Moto G or a 2300 mAh battery for the Moto X.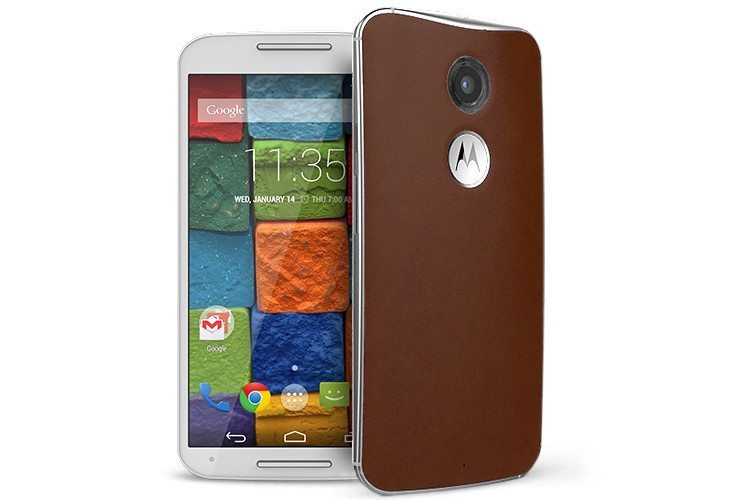 Connectivity
The new Moto G (pictured below) supports 3G, Wi-Fi 802.11 a/b/g/n/ac, Bluetooth 4.0, GPRS, EDGE and microUSB 2.0. The Moto X (pictured above) has all of the above and also 4G and NFC.
Operating System
Both phones support Android 4.4.4 KitKat that will be upgradable to Android L.
Dimensions, Weight and Colors
The new Moto G measures 141.5mm x 70.7mm x 11mm and weighs 149g. The new Moto X measures 140.8mm x 72.4mm x 10mm and weighs 140g. Both of these phones are available in black or white color options.
By looking at the above it's easy to see the many advantages of the Moto X over the Moto G as far as specs are concerned. In our launch articles we gave pricing for the new Moto X as $499 while the price of the new Moto G is less than half of this at $179, so the benefits of the Moto X are exactly what we would expect. Only you can decide whether the difference in specs is worth paying for, considering your own needs and requirements.
You can see more about both phones in our previous articles on them, here for the Moto X or here for the Moto G. Are you going to buy one of these new Motorola phones? If so, is it the Moto G or the Moto X 2014 that rocks your boat? Let us know with your comments.