iOS 8.1.1 beta speed on iPhone 6 Plus vs 6, 5S and more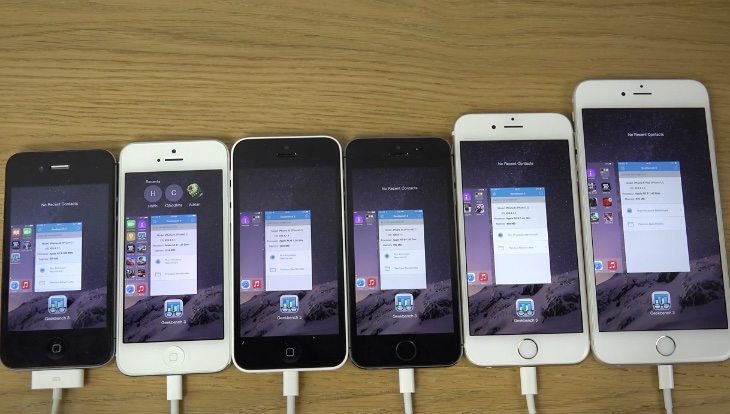 A new iOS update is on the way in the form of iOS 8.1.1. This is focused on bug fixes and the beta was seeded to developers a few days ago. Yesterday we showed a short look of the iOS 8.1.1 beta running on the iPhone 6, and now we have another video that readers might find interesting. It looks at iOS 8.1.1 beta speed on the iPhone 6 Plus vs. 6, 5S, 5 and more.
We know that many readers are keenly waiting for the iOS 8.1.1 update to release in the hope that many of the much-reported problems are resolved. However, it's also interesting to think about incoming update speeds. The YouTube video that we've embedded below our article comes from Adrianisen, one of our favorite YouTubers.
The devices compared in the video are the iPhone 4S, iPhone 5, iPhone 5C, iPhone 5S, iPhone 6 and iPhone 6 Plus. It begins by showing that all of the devices are running the iOS 8.1.1 beta, which at present is only available for developers, before noting the amount of RAM on each device. All of the handsets are then powered off before the informal test can begin.
The phones are then simultaneously powered on, and while we won't give away which ones power up the fastest, the results are pretty much what we expected. Nevertheless, for curiosity's sake it's worth taking a look at the video positioned below. There's no news yet on the iOS 8.1.1 release date to the public, but we imagine it won't be too much longer and we'll pass on info as we hear it.
Are you hoping for speed improvements with iOS 8.1.1 or are you more concerned that any current glitches you have with your iPad or iPhone are fixed? Send your comments to let us know.