The Asus ZenWatch gets listed on Google Play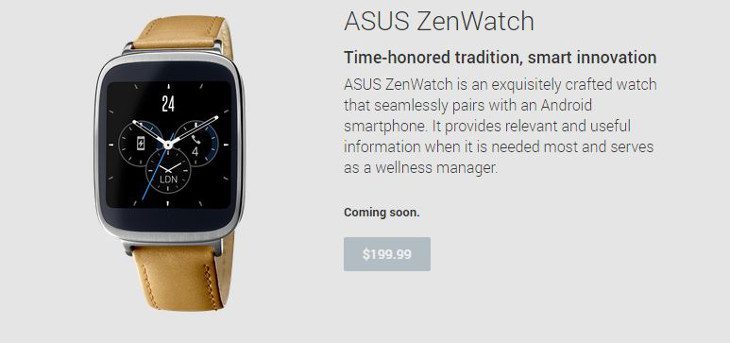 Devices have a habit of popping up randomly on the Play Store right before they're released, and just yesterday we told you about the Project Tango Tablet that mysteriously popped up in the Play Store. Today's visitor isn't quite as mysterious, and it's a lot more affordable. The Asus ZenWatch has finally arrived in the Play Store, and its price is listed at $199.
The Asus ZenWatch "should" be the last Android Wear device to arrive this year, and it's also one of the cheapest. We don't mean that in a negative light either; the ZenWatch may not look like its brethren, but it can run right alongside them in terms of specs.
The design of the Asus ZenWatch is different from its counterparts as it has rounded edges, but keeps a square face thanks to the bezels. It has more of a classic look, and it shows with the layered stainless steel design. It runs Android Wear, but seamlessly integrates with ZenUI on Asus smartphones so you can use some of their exclusive apps.
As with a lot of smartphones, the Asus ZenWatch has some fitness functions. Its Wellness Manager can keep tabs of your health with a variety of sensors to help you meet or keep your fitness goals. Other fun features to note include Find My Phone, Remote Camera, Watch Unlock, Cover to Mute and Presentation Control.

In terms of the specs, the Asus ZenWatch has a 1.63-inch AMOLED display with a resolution of 320 x 320. It gets its power from a Snapdragon 400, and you'll get 512MB of RAM to work with as well. The smartwatch carries the IP55 water resistant rating, weighs 75grams, and measures 50.6 x 39.8 x 7.9 — 9.4mm. The ZenWatch can connect through Bluetooth 4.0 and the battery is listed at 1.4Wh.
Just like with most of the watches that came before it, the Asus ZenWatch is listed as "coming soon" on the Play Store. That will change soon as it did with the R Watch, and we expect it be available for purchase soon. The R Watch is currently out of stock, so whenever the ZenWatch does show up in the Play Store, you will want to act fast.