iPhone 6 Plus vs LG G3 benchmark results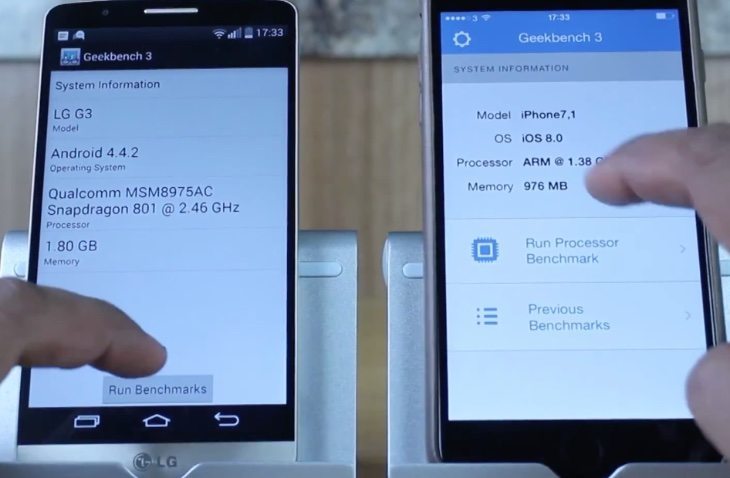 There have been some great flagship arrivals this year and two of these are the Apple iPhone 6 Plus and the LG G3. Many potential buyers like to consider benchmark results for smartphones before they purchase, and both of these devices have an impressive specs line-up that should mean good performance. Today we're sharing a video of iPhone 6 Plus vs. LG G3 benchmark results.
The iPhone 6 Plus is equipped with a 1.4GHz Apple A8 dual-core processor with PowerVR GX6450 quad-core graphics and 1GB of RAM. On the other hand the LG G3 specs include a 2.5GHz Snapdragon 801 quad-core processor with Adreno 330 GPU and 2GB or 3GB of RAM depending on storage model. So how do these phablets compare as far as benchmark performance is concerned.
Underneath this article we've placed a YouTube video from Fone Arena that shows a comparison of iPhone 6 Plus and LG G3 benchmarking. The two tests used in this are Geekbench 3 and 3D Mark, and the reviewer adds that although they also wanted to include the AnTuTu benchmark this wasn't possible because of issues using this on the iPhone.
First you'll see Geekbench 3 benchmarking performed on both phones, and this one tests the CPU power and efficiency. With this test the iPhone 6 Plus managed a multi-core score of 2897 and single-core score of 1609. The test takes longer to perform on the LG G3, which attained a multi-core score of 2126 and single-core score of 906. You'll then hear an explanation of the differences in these results.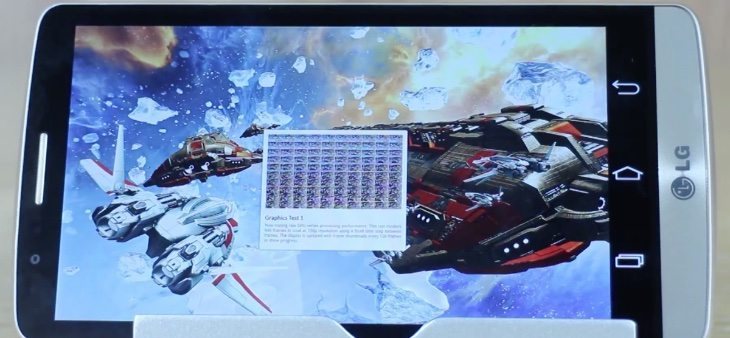 The video continues by showing a comparison of the scores achieved against some other top handsets such as the Samsung Galaxy S5 and the LG-made Google Nexus 5. The next section involves the 3D Mark test with Ice Storm Unlimited, and this kind of benchmarking concerns the graphics, GPU, rendering, CPU and memory.
We won't give you the scores this time around as you might enjoy finding out when you watch the video. Again you'll also see some scores attained by other handsets for comparison. As far as the overall results are concerned it's clear that one of these two devices is better optimized than the other, but again we'll let you discover that when viewing the comparison for yourselves. You may also be interested in a previous video we shared showing a comparison of optical image stabilization on the iPhone 6 Plus and LG G3, or another comparison that focuses on the benefits of each of these devices over the other.
It's always interesting to see benchmarking results, although we should remember that as well as performance a good device also needs to be backed up by a great user experience as well. What are your thoughts on the benchmarking results of the iPhone 6 Plus and the LG G3? Send your comments to let us know.