iPhone 6 iOS 8.2 beta vs Moto X Android 5.0 Lollipop boot-up speeds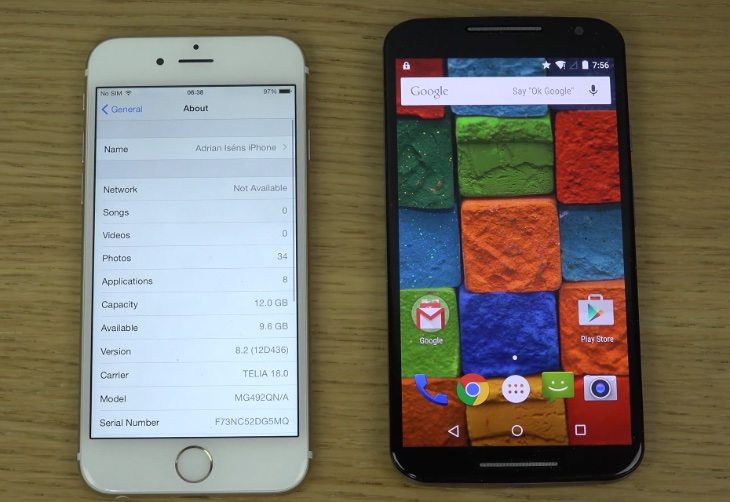 There's a lot of attention right now on operating systems with Apple's iOS 8 releasing to end users in September and now Google's Android 5.0 Lollipop update starting to reach devices. Two days ago the next update to iOS 8.2 arrived in beta form for Apple developers, and now we're sharing a video showing a boot-up speed test of the iPhone 6 iOS 8.2 beta vs. Moto X on Android 5.0 Lollipop.
Android 5.0 Lollipop has now arrived for several devices including the Nexus 5 and 2014 Moto X and Moto G. There have been reports of some teething issues with the update but generally it has been very well received. Apple's iOS 8 has been through several updates already, with the last being 8.1.1 for bug fixes after various problems have been reported by users. Now the beta for iOS 8.2 has been made available for developers only.
It's always interesting to see how operating system versions compare, and the YouTube video embedded under this post shows an informal speed test on the iPhone 6 running iOS 8.2 beta and the Moto X on Android Lollipop. The video begins with details of iOS 8.2 beta 1, which now offers WatchKit tools for developers to prepare for the Apple Watch release next year.
You'll then see that the iPhone 6 being used is indeed running iOS 8.2 and this is alongside the Lollipop-running new Moto X. Both handsets are then turned off with the reviewer noting that he has unlocked the bootloader on the Moto X in case it affects times. The phones are then powered up simultaneously and it's clear to see that the iPhone 6 is the fastest to be ready for action, with the reviewer pointing out that this is despite the fact that it still users a dual-core processor as opposed to a quad-core processor in the Moto X (2014).
Ultimately we must remember that this kind of testing is pretty informal, but we should also bear in mind that this is only a beta of iOS 8.2 so the speeds with the final build on the iPhone 6 could improve further. We'd like to know what you think about this boot-up speed test for the iPhone 6 and Moto X (2014) on iOS 8.2 beta 1 and Android 5.0 Lollipop respectively?