Nexus 9 Best Buy deal saves $100 or more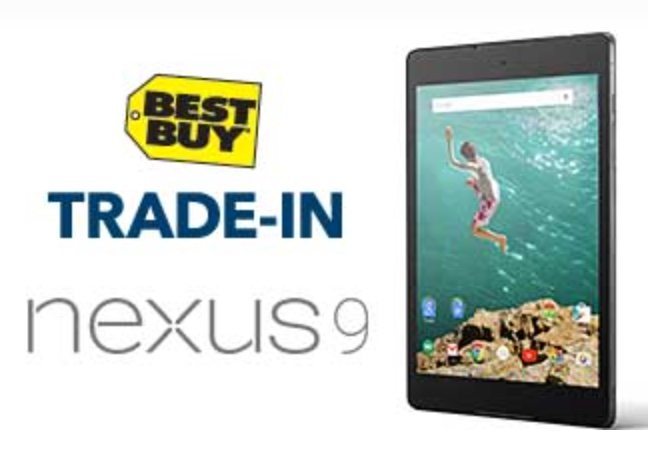 The Google Nexus 9 tablet made by HTC was recently released and is likely to be another extremely successful device in the Nexus line. This will be in plenty of demand with the holiday season upon us, and if you want one there's some good news about a Best Buy promo. A Nexus 9 Best Buy deal saves $100 or more, and that's a saving not to be sniffed at!
The Nexus 9 will be a major competitor in the tablet market, and if you want to see much more on specs you can check out our recent comparison of it against the Samsung Galaxy Tab S 8.4 or our specs breakdown of it against the iPad Air 2. On the Google Play Store the cheapest model is priced at $399 and that's also the price of the 16GB WiFi model on Best Buy.
The new Best Buy trade-in promotion is well worth thinking about then, as you could essentially be paying $299.99 instead. The offer runs until November 29 so there are just a few days left to take advantage of it, but if you have any working tablet that you're willing to hand over then you will get a $50 coupon and a gift card for at least $50 to put towards your purchase of a Nexus 9. That's the minimum amount for the gift card, but depending on the trade-in model you could receive a higher offer, bringing the cost down even further.
As usual there are some terms and conditions and one of these is that it has to be a "qualifying" tablet that you're trading in, and this doesn't cover Nook tablets and e-readers. While the trade-in promo last until November 29 you have until December 6 to redeem your coupon. You can see all the trade-in small print at this Best Buy Nexus 9 product page.
Were you about to purchase the Nexus 9 anyway? Do you now intend to benefit from this Best Buy trade-in offer? Let us know with your comments.