iOS 8.1.2 speed tests on iPhone 6 Plus vs 6, 5S, 5C, 5 and 4S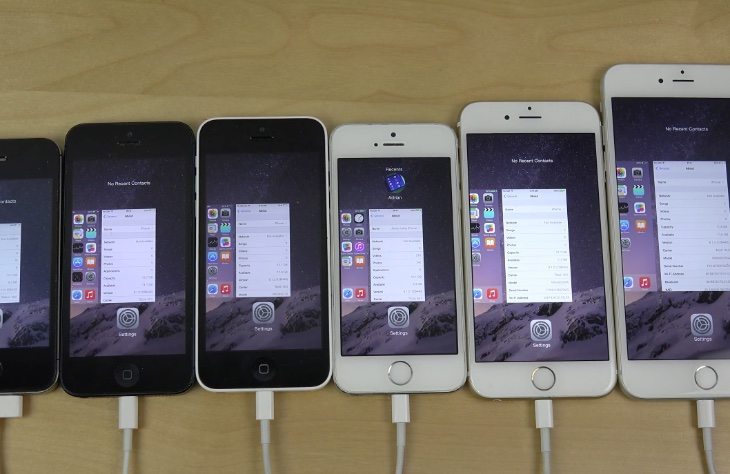 Apple publicly released its latest version of iOS to iPhones and iPads two days ago, and iOS 8.1.2 brought along various bug fixes, including one for a missing ringtones issue. It's always good to see a new update running on various devices to see how they compare and today we have some videos showing iOS 8.1.2 speed tests on the iPhone 6 Plus vs. 6, 5S, 5C, 5 and 4S.
We've documented many of the reported issues of iOS 8 and subsequent updates, and with ongoing problems after iOS 8.1.1 we hoped 8.1.2 would come along with some further fixes before Apple released iOS 8.2, which was already in beta. We haven't had much time to get to grips with iOS 8.1.2 yet to see if it resolved some of the difficulties users were having on their iPhones and iPads, but we'll be looking more closely at that in the following days.
In the meantime we came across some videos offering us a look at the above iPhones competing against each other in a benchmark test and also a boot-up speed test. The first YouTube video that you can see below this article shows a Geekbench benchmark speed test. The iPhone 4S right through to the iPhone 6 and 6 Plus are all of the handsets that can be upgraded to iOS 8.1.2. At the beginning of the video the reviewer goes into Settings on each device to show that they are all indeed running this latest version.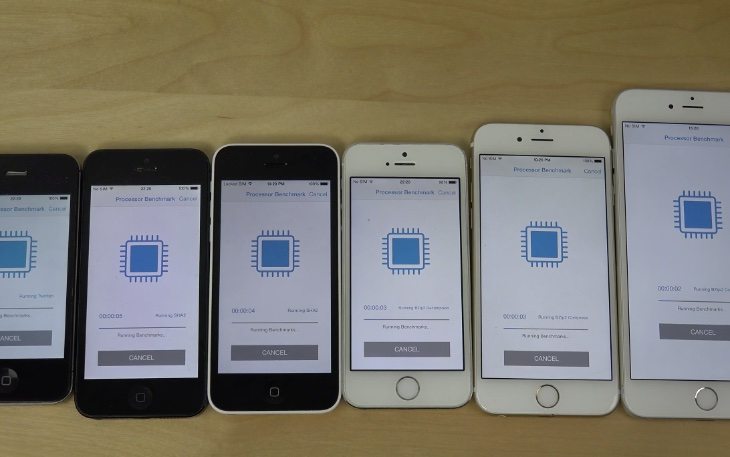 Next you'll see the Geekbench 3 test being conducted on all of the handsets side-by-side, interesting because of the different internals of the phones. The results of the test are pretty much as you'd expect and the new iPhones have the top scores, with the iPhone 6 just edging it over the 6 Plus. What's really notable here is the significant difference between the lowest score on the iPhone 4S and the highest on the iPhone 6, showing just how much they have advanced.
The second YouTube video under this article is a boot-up speed test using the same lineup of iPhones. Again we see that iOS 8.1.2 is being used on all of the devices before they are powered off. The iPhones are then all turned on simultaneously to see which boots up the fastest. We won't give away which springs into life first here or the other results, as you might prefer to find out when you check out the video for yourselves.
You might also be interested in news of the iOS 8.2 beta 2 release for developers from our earlier article today. We're interested to get your thoughts on these video speed tests for the iPhone 6 Plus, 6, 5S, 5C, 5 and 4S running iOS 8.1.2, so why not send us your comments.