Lumia 1330 benchmark spot reaffirms specs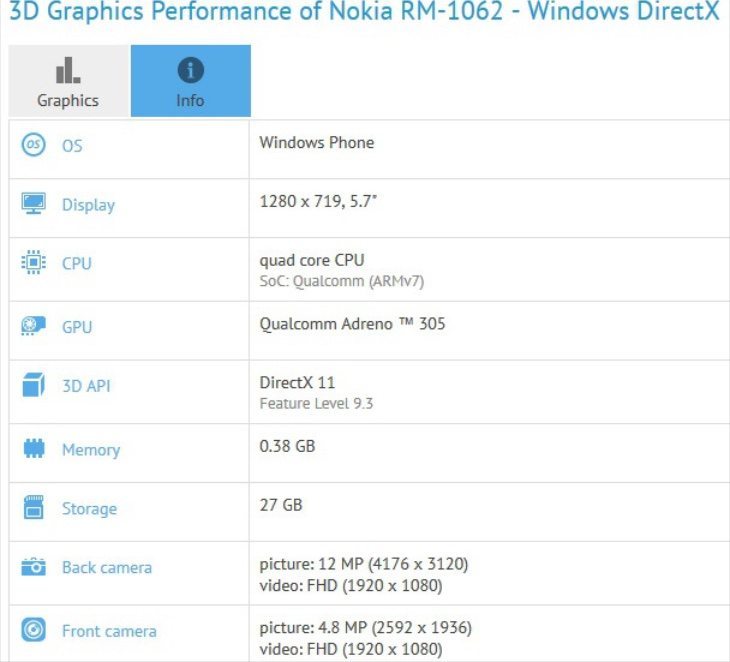 We've been hearing rumors about an upcoming smartphone phone dubbed the Microsoft Lumia 1330 for some time now, and have already reported on a specs leak for the device. Now a Lumia 1330 benchmark spot has reaffirmed some of the specs for this handset and also implies that it's getting closer to a release.
There were some early murmurings about the Lumia 1330 back in November when a mystery phone was spotted in an image that also showed the Microsoft Lumia 535 and Nokia Lumia 1520. Because of the unknown phone's similarity to the Lumia 1320 it was thought that it could be a successor in the form of the Lumia 1330, although the name is not yet official.
Following this, just before Christmas we reported on a specs leak for a new Microsoft Lumia phone with model number RM-1062, aka Lumia 1330. The latest news on this is that the same phone has just made an appearance on the GFX benchmark database and this seems to confirm many of the earlier specs that were leaked.
The new benchmark listing for model RM-1062 shows a Snapdragon 400 quad-core processor, Adreno 305 graphics, a 5.7-inch display with resolution of 1280 x 720, 1GB of RAM, and 32GB of internal storage. The phone has a 14-megapixel rear camera and 5-megapixel front-facing snapper, and this all ties in nicely with the earlier news on this handset.
Two more versions of the phone have also turned up at the FCC for certification. Model RM-1066 is said to be a single SIM variant and model RM-1067 is described as a dual SIM handset. As well as the three model numbers shown above, AdDuplex also lists model numbers RM-1063, RM-1064 and RM-1065 as further variants.
While this may not be quite the flagship Lumia handset that many people are waiting for, there's still likely to be a lot of interest in the Lumia 1330 when it's made official. As it has now shown up in FCC filings as well as the GFX database, we expect this phone to be launched sooner rather than later. We'll be keeping our noses to the ground for more on the Lumia 1330, as well as the Lumia 1030 flagship (dubbed McLaren), although there are still conflicting reports over whether the latter will ever actually release or not.
What are your initial thoughts on the upcoming Lumia 1330? Does this sound like a phone you may be interested in, or would you have preferred something with more top-flight specs? Drop us your comments in the box below.
Via: NokiaPowerUser