Samsung Galaxy S5 vs S4, S3, S2 Android Lollipop boot speed test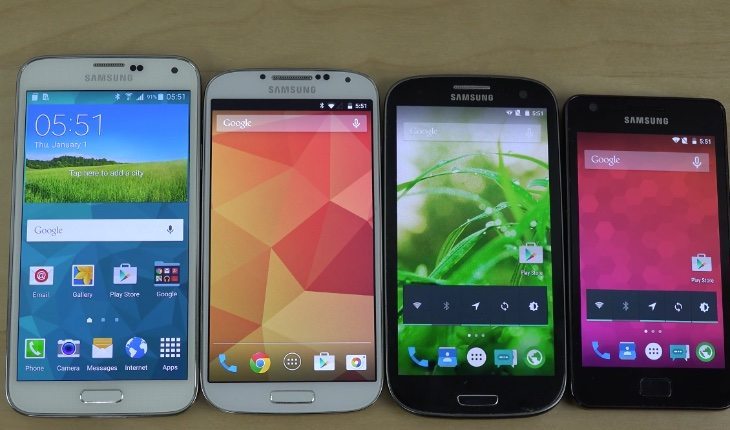 Android 5.0 Lollipop is officially being rolled out to an increasing number of devices, one of which is the flagship Samsung Galaxy S5. It has only arrived for the S5 in a limited amount of regions so far, although unofficial builds of Lollipop are being used for this and other devices by some users. Today we have a video to share that shows the Samsung Galaxy S5 vs. S4, S3 and S2 on Android Lollipop in a boot speed test.
We recently reported that the Android 5.0 Lollipop update had now reached some owners of the Samsung Galaxy S5 in Spain, and so it should appear for more European countries before too much longer. It can be frustrating that updates sometimes take so long to release to different regions and carriers, and Samsung hasn't got the greatest reputation for pushing out speedy updates. It's also rumored that the official Lollipop update will start rolling out for the Galaxy Note 4 at some point in January, and we'll be keeping a close eye out for this.
In the meantime we sometimes come across interesting videos showing updates on devices, and the YouTube video that we've embedded below this article shows The Galaxy S5, S4, S3 and S2 all running Android 5.0 Lollipop to see which boots up the fastest. It begins by showing all of these handsets lined up alongside each other and detailing which model numbers they are.
It's then pointed out that only the Galaxy S5 is running an official build of Lollipop skinned with Samsung's TouchWiz, while the other handsets are running different unofficial builds. All apps are closed on each handset before they are powered off. The handsets are then simultaneously powered on to see which one boots up the quickest.
The winner is not surprising as we'd always expect the latest highest-specced device to be the fastest, but the second fastest device is not what we would have anticipated. We won't spoil your enjoyment of the video by giving away all of the results, but in fact all of these phones are pretty quick with not a huge amount of difference between them. It's also interesting to get a look at the older Galaxy S2 and S3 running a build of Lollipop.
When you've viewed the video below we'd be interested to hear your thoughts on the results of this Lollipop boot-up test on the Samsung Galaxy S2, S3, S4 and S5, so do send us your comments. Are you eagerly waiting for the official release of Android 5.0 Lollipop to reach your Samsung device?