Sony Xperia Z4 vision packs in specs and features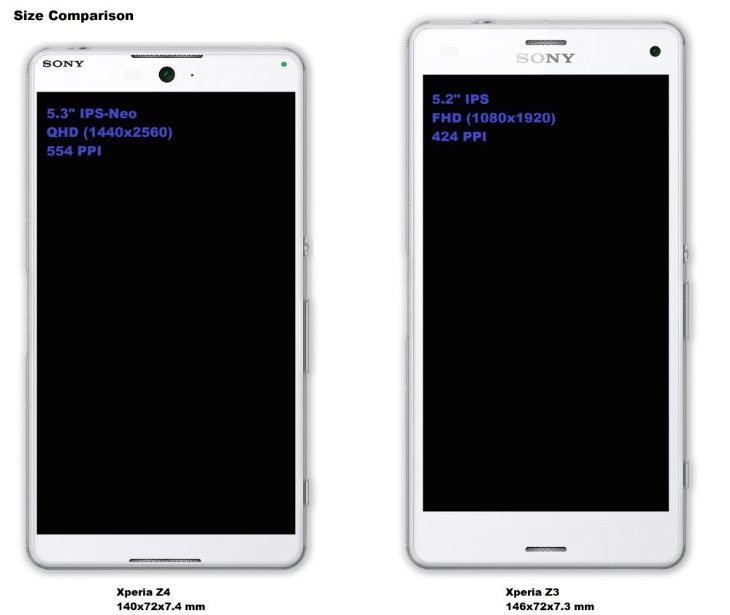 Expectation is mounting for a rumored unveiling of the Sony Xperia Z4 at CES in Las Vegas. This runs from January 6th to the 9th and so there's not too much longer to wait until we find out if the current speculation is accurate. While we're waiting we thought we'd share an interesting new Sony Xperia Z4 design that really packs in the specs and features.
There have been plenty of leaked specs and images already for the Sony Xperia Z4, but of course at this stage these are unconfirmed. Over the last few months we've also seen quite a few Sony Xperia Z4 renders to whet our appetites with possibilities. The concept we're showing here today comes with a specs lineup and also another image showing its size compared to the current Xperia Z3.
It comes from designer Sanjaya Kanishka, and the basic look of the phone isn't too different from the existing Z3. However, although it has a larger display, the slimmer bezels of this Z4 mean that the width of the phone stays the same. This new Xperia Z4 idea is more compact overall though, as its height is 6mm less than that of the Z3.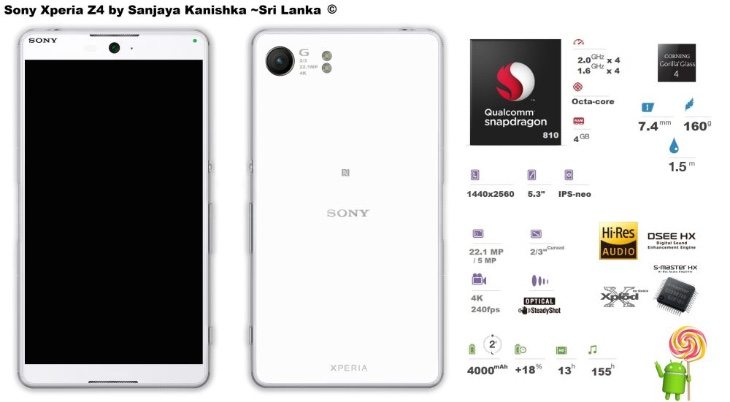 Now onto the specs, and while some of these tie in with what we're anticipating for the real deal, there are some differences. These Xperia Z4 specs include a Qualcomm Snapdragon 810 octa-core 64-bit processor (4 cores at 2GHz and 4 cores at 1.6GHz), and a 5.3-inch IPS-Neo display with Quad HD resolution of 2560 x 1440 resulting in 554 ppi and featuring Gorilla Glass 4 protection.
Further specs include 4GB of RAM, 32GB of internal storage, and a 4000 mAh battery. Camera capabilities are taken care of with a 22.1-megapixel rear camera with curved sensor, dual LED flash, optical image stabilization and 240fps slow motion video capture, as well as a 5-megapixel front-facing camera. Features include Sony X-Ploid speaker technology to enhance bass, and there are upgraded stereo dual speakers, and support for S Master HX Walkman.
It measures 140mm x 72mm x 7.4mm and weighs 160g, and runs the Android 5.0 Lollipop operating system. When you've had time to check out the images and absorb the specs and features of this Sony Xperia Z4 vision we'd like to hear what you think of it. Is this similar to what you'd like to see for the genuine Xperia Z4 when it releases? Why not let us know by sending us your comments.
Source: Concept Phones