Nexus 6 vs Galaxy Note 4 Android Lollipop review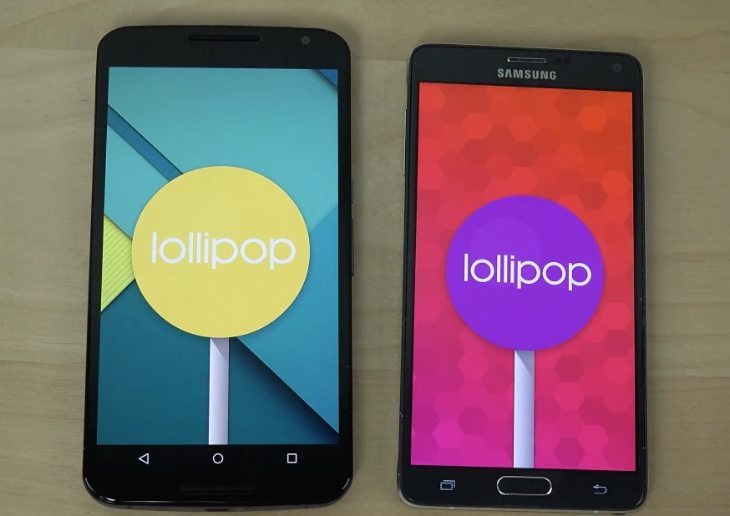 The Google Nexus 6 and Samsung Galaxy Note 4 are both top-end phablets with a huge amount to recommend them. The Motorola-made Nexus 6 released running Android 5.0 Lollipop while the official Lollipop update for the Galaxy Note 4 hasn't arrived yet, although leaked builds are available. Hence today we're showing a Nexus 6 vs. Galaxy Note 4 Android Lollipop review video.
We've already shared a video comparing specs and features of the Nexus 6 and Note 4, and also a speed test of the Nexus 6, Note 4 and iPhone 6, so do check those out if you want more info on these smartphones. The Lollipop update is already arriving for the Samsung Galaxy S5 in limited regions, while it's tipped to start rolling out for the Galaxy Note 4 later this month, although this is unconfirmed. We also recently heard that it could miss out 5.0 Lollipop and skip straight to Android 5.0.1.
Below this article we've embedded a YouTube video showing Lollipop on the Nexus 6 in a side-by-side comparison with the Galaxy Note 4. Obviously this is using an unofficial build of Lollipop for the Note 4 so you might want to bear this in mind, and the reviewer points out that although it's been working pretty well there are some minor glitches.
The review shows many aspects of the Lollipop update beginning with the look of notifications, the app drawer, card-based UI look and more, and showing some of the similarities and also the differences. It also demonstrates the camera apps and modes, showing the contrast between the stock experience of the Nexus 6 as opposed to the Galaxy Note 4. There are also further observations about both phones, so why not check out the review in full below.
When you've taken a look we'd really like to hear your opinions of Android 5.0 Lollipop on these phablets. Are you already enjoying the delights of Lollipop on the Nexus 6? Maybe you're keenly waiting for the official Android Lollipop update to arrive for your Samsung Galaxy Note 4? Drop us a comment in the box below.