Samsung Galaxy S6 claimed as having improved feature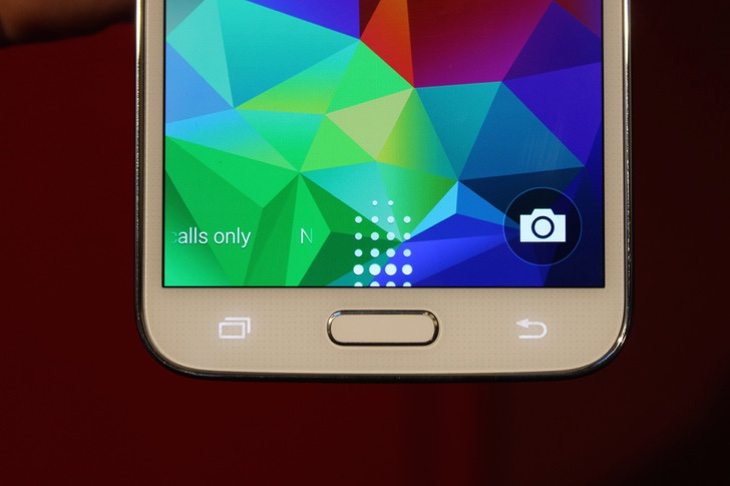 Many of us are expecting to see the official unveiling of the next Samsung flagship within the next couple of months. There have been plenty of leaks and rumors about the Samsung Galaxy S6 already, and now it is touted as having an improved feature in the way of an new type of fingerprint sensor.
In our previous article about the upcoming Galaxy S6 vs iPhone 7 (6S) vs HTC One M9 we gave a few of the unconfirmed specs so far for the Galaxy S6, and just a few days ago there was what appeared to be confirmation of a Quad HD display resolution. Now there's further news on the Galaxy S6 with a report from SamMobile, a good source for credible information about Samsung devices.
The fingerprint scanner that features on the current Galaxy S5 and subsequently the Galaxy Note 4 and some other Samsung handsets, is a swipe-based sensor. This is built into the Home button but there has been some frustration among users of the phone concerning errors when trying to use the fingerprint feature. Much of the problem seems to be that the Home button doesn't have a large enough surface area for sliding a finger across properly. Although the answer to this is to register a fingerprint in various angles this is something that has been missed by a lot of owners of the device, and the tutorial that Samsung provides doesn't make things very clear.
SamMobile cites "highly credible sources" informing them that this swipe-based sensor will be changed to a touch-based sensor for the Galaxy S6. This will be a massive improvement, as it will enable users to register an entire fingerprint rather than a partial one, similar to the way the sensor works in phones such as the iPhone 6 and Huawei Ascend Mate 7. It will still be incorporated into the Home button, but it's said that this will be made a little bigger to enable the new experience.
With the new sensor users will simply need to place their fingertip on the button from any angle and then lift it, rather than having to swipe their finger across. While the hardware will be changed to accommodate this, it's reported that as far as the software goes there will be no changes. However, fingerprint features that will remain include Fingerprint Unlock, Web Sign-in, Verify Samsung Account, Private Mode, and Pay with PayPal.
You can be sure that we'll be hearing much more about specs and new features for the S6 over the next few weeks, and we can't wait to see what comes next! Are you pleased to hear about this alleged change to the fingerprint sensor for the upcoming Samsung Galaxy S6? Let us know with your comments.
Source: SamMobile