iPhone 6 iOS 8.2 beta 5 vs iOS 8.1.3 speed comparison review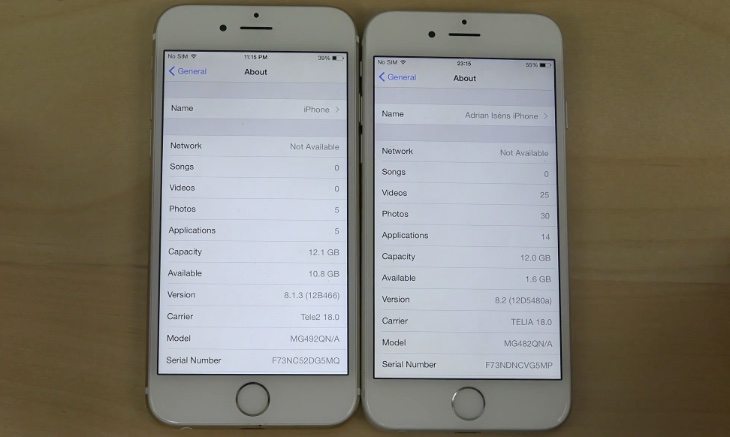 Apple's iOS 8.2 has been in the beta stages for some time now, although iOS 8.1.3 is the latest public release that arrived last week. Yesterday Apple seeded iOS 8.2 beta 5 to developers, but there's still no news on when 8.2 will release to the public. Today we have a video to share that shows the iPhone 6 on iOS 8.2 beta 5 vs. iPhone 6 on iOS 8.1.3 in a speed comparison review.
Beta 5 has build 12D5480a and brings further testing opportunities. It's only available for developers, who can now access it over-the-air or from the iOS Dev Center, and it has arrived a few weeks after beta 4 was made available. Whereas iOS 8.1.3 concentrates on bug fixes, iOS 8.2 focuses on WatchKit support in preparation for the Apple Watch release.
Below this article you can see a YouTube video that we've embedded for your convenience. It shows an iPhone 6 running the latest beta of 8.2 on the right, alongside the iPhone 6 running the current 8.1.3 on the left of the picture. The reviewer begins by opening up some apps on both phones simultaneously, and there's absolutely nothing between them in this respect.
Both handsets are then powered off with the iPhone running iOS 8.1.3 being the first to go off fully although the difference is marginal. They are then powered up again simultaneously to test the bootup speeds, and iOS 8.1.3 again is just in front of the phone on iOS 8.2 beta 5. A Geekbench 3 benchmark test is then conducted and both the single-core and multi-scores are higher for the handset on 8.1.3, although again the differences in speeds is minimal.
Following this the Ookla Speedtest app is used and you'll see the test being run but we don't want to give away all of the results as you'll find it more enjoyable to find out when you view the video. Next there's an AnTuTu benchmark test with a promising indicator of a speed boost for one of the devices, but we won't say which.
Of course we should remember iOS 8.2 is still in beta and that there could be optimizations bringing further improvements once it reaches the final build. While we're waiting for the public release of iOS 8.2 you might be interested in checking out another video showing the current iOS 8.1.3 in browser and Internet testing on the iPhone 6 Plus vs. 6, 5S, 5, 5 and 4S.
When you've checked out the video comparison below of an iPhone 6 running iOS 8.2 beta 5 vs. an iPhone 6 on 8.1.3 we'd be interested to hear your thoughts. Drop us your comments in the box below.