Xiaomi Mi4 64GB India price and availability date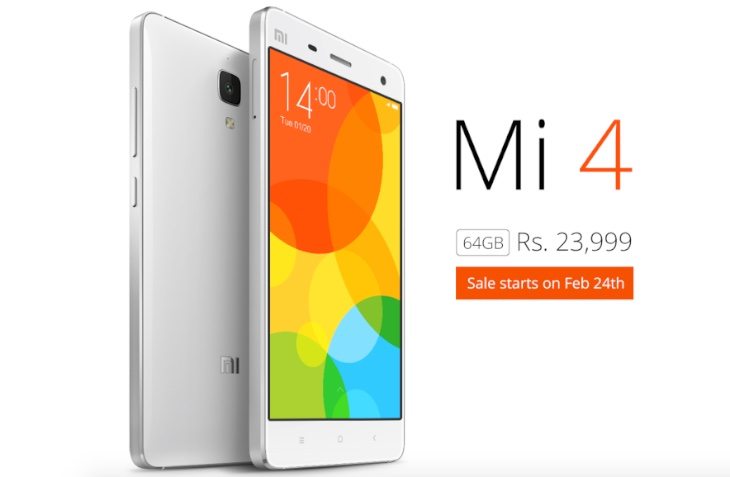 If you were disappointed to hear that only the 16GB version of the Xiaomi Mi4 had launched for India rather than the larger storage model, there's some excellent news today. We have details of the Xiaomi Mi4 64GB India price and availability date, after a surprise announcement that this variant will also go on sale.
Towards the end of last month we reported on the launch of the Mi4 in India. The 16GB version was announced with availability from Flipkart from February 10th with a price of Rs. 19,999. We noted then that some potential buyers were likely to feel let down about the absence of the 64GB Xiaomi Mi4, and so plenty of people will be pleased to hear this latest news.
Xiaomi has announced that the Mi4 64GB model will be up for grabs from Flipkart from February 24th with a price of Rs. 23,999. Like the 16GB version for India it will only be available in the white colour and it will have 3G connectivity but not 4G LTE support. Registrations for the sale of the 64GB Mi4 will open soon but Xiaomi hasn't yet given a date for that.
Specs of the Mi4 include a 2.5GHz Snapdragon 801 quad-core processor, Adreno 330 graphics, and a 5-inch display with resolution of 1920 x 1080. It has 3GB of RAM, a 13-megapixel rear camera with 4K video capture, an 8-megapixel front-facing shooter, and a 3080 mAh battery. It runs Android 4.4 KitKat-based MIUI 6.0. Readers may also be interested in a recent video comparison that we shared of the Xiaomi Mi4 vs. iPhone 6.
It's a very nice turnaround that Xiaomi has decided to offer the 64GB option of the Mi4 for India, and it would be nice to think this is in response to customer feedback although that's not clear. We'd like to know if you're now going to wait for the Xiaomi Mi4 64GB to arrive or purchase the 16GB model tomorrow? We always appreciate your comments.
Source: Mi (Facebook)
Via: Fone Arena