Galaxy Note 4 Lollipop vs iPhone 6 iOS 8.3 beta speed tests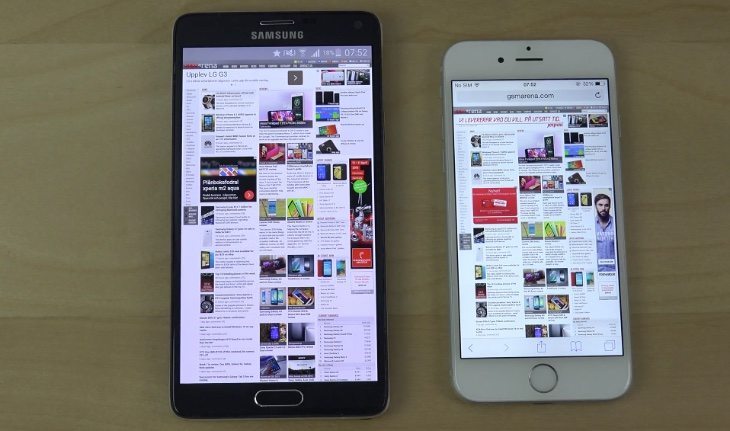 It's often interesting to see how flagships on different operating platforms compare when a new version of an operating system comes along. Recently the Android 5.0 Lollipop update started to arrive for the Samsung Galaxy Note 4 and Apple seeded the first beta of iOS 8.3 to developers. Today we have a video to share of the Galaxy Note 4 on Lollipop vs. iPhone 6 on iOS 8.3 beta in an Internet browser speed test.
Unofficial builds of Android Lollipop have been available for the Galaxy Note 4, but just last week we informed readers that the official OTA 5.0.1 Lollipop update had started to roll out for owners of the device in Russia. Therefore we can expect the upgrade to spread to other regions before too much longer. Meanwhile Apple surprised a lot of people by making the iOS 8.3 beta available for developers even before iOS 8.2 has made a public release.
The Galaxy Note 4 and iPhone 6 are both flagship handsets and the YouTube video that we've embedded below this article shows an Internet Browser speed test on WiFi. Both phones are on the same WiFi network and both have apps running in the background closed. The Galaxy Note 4 is running official Android 5.0 Lollipop while the iPhone 6 is running iOS 8.3 beta one.
The reviewer then runs both phones through their paces opening different websites to see which is fastest to load up. Both are speedy and perform well. Although the iPhone 6 is sharper on many occasions there really isn't much in it most of the time (though there are exceptions)! However, the reviewer notes that the Galaxy Note 4 is faster when scrolling up and down the page, and also makes some other observations along the way.
When you've checked out the video down below showing the informal Internet browser speed test on the Galaxy Note 4 and iPhone 6 we'd like to hear your thoughts. Why not drop us your comments in the box below.