Sprint teases the Galaxy S6 release date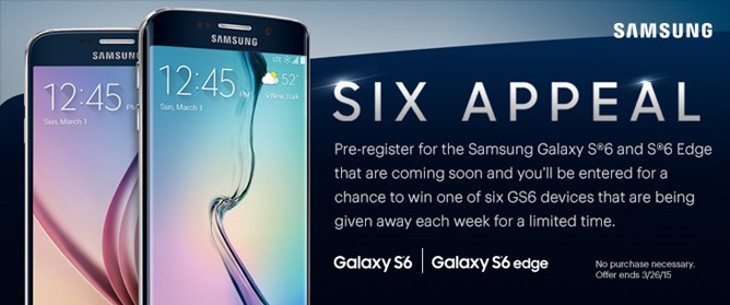 Three of the four major US carriers have dropped teasers for Samung's "next big thing" and Sprint has just unleashed the best one yet. It gives us another look at both new smartphones while also tipping us off to a potential Samsung Galaxy S6 release date.
Samsung's big pitch for the Galaxy S6 pre-launch has been "six appeal" and Sprint is going back to the well with another Galaxy S6 ad. Their first Six Appeal ad showed the device from the side with glowing yellow edge while the new ad does away with the mystery and shows the device we're going to see "officially" in a few days.
Sprint's new Six Appeal ad shows the Galaxy S6 Edge along with the regular model, and while we only get to see the front and side, it matches the renders we showed you earlier today. It also gives us a good idea of the Samsung Galaxy S6 release date as it's tied to a contest that gives you a chance to win the new smartphone. The end date for the giveaway is March 26 and those Itskins cases are set to roll out on March 15th.
We won't have to wait long to find out the official Samsung Galaxy S6 release date, but all signs point towards the end of March. Rest assured, we'll be around to give you the lowdown on Sammy's two new handsets as soon as they are announced.
via – Android Police   source: Reddit