Microsoft Lumia 640 and 640 XL confirmed as real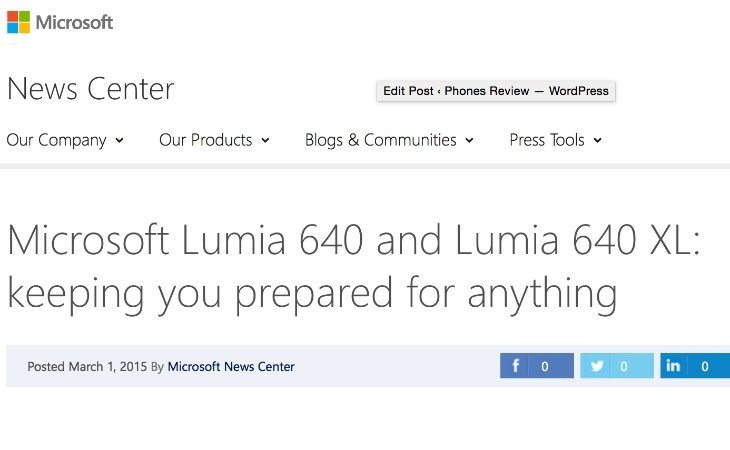 There will be plenty of news pouring out of MWC 2015 over the next few days and one of the devices rumored to appear is the Lumia 640. However, up until now we'd heard nothing about a Lumia 640 XL, but now the Microsoft Lumia 640 and Lumia 640 XL have both been confirmed as real.
We've seen a few leaks about the Lumia 640, firstly with a spot at a Brazilian certification authority and then in listings for upcoming Windows Phone products. What we've learned about the handset from news so far is that it' s dual SIM phone (probably a single SIM version as well) supports HSDPA+, WiFi, Bluetooth 4.0, and digital TV. Unconfirmed specs include a Snapdragon 400 processor, a 5-inch display with resolution of 1280 x 720, and 1GB of RAM. Also expected are an 8.7-megapixel rear camera, 0.9-megapixel front-facing camera, LTE, and NFC.
Now it seems virtually uncertain that we'll soon see the official reveal of the phone, as Microsoft's news center put an article out today. It was titled "Microsoft Lumia 640 and Lumia 640 XL: keeping you prepared for anything," but somebody must have given the game away early as the post was then pulled. At the source below you can see a cached version of the article thanks to Google, and this shows the title but no further information.
However, not only do we now know that Microsoft is preparing for the launch of the Lumia 640, but we also know that there will be a Lumia 640 XL. We hadn't seen a mention of the 640 XL version before now, but it's likely to be a bigger version of the Lumia 640, in much the same way that the Nokia XL was a larger variant of the Nokia X.
Certainly it now appears that we could be seeing the Lumia 640 and 640 XL at a Microsoft event at MWC scheduled for March 2nd. Of course that's tomorrow so it won't be long until we find out for sure. Will you be waiting to hear official news on the Microsoft Lumia 640 or Lumia 640 XL? We always appreciate your comments.
Source: Microsoft (Google's cached version)
Via: WMPowerUser