Alcatel OneTouch Hero 2+ set to arrive in the US with Cyanogen OS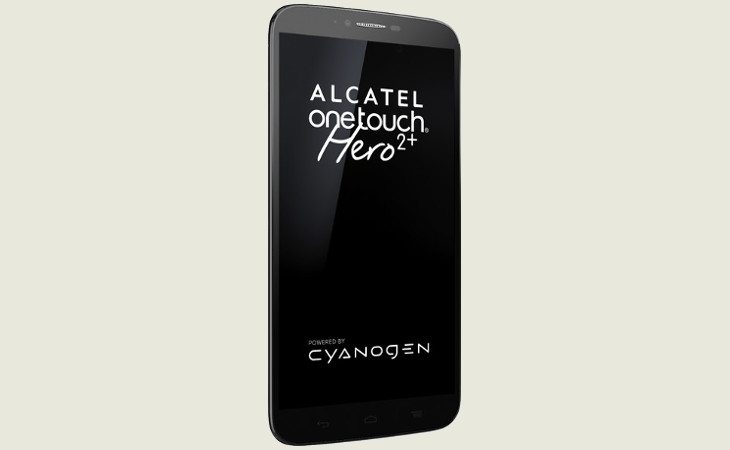 Yesterday, we told you about the OneTouch Idol 3, and today we're back to tell you about another new handset from Alcatel called the Alcatel OneTouch Hero 2+. It's big, it's bold, and it is surprisingly cheap…
Alcatel has announced the Alcatel OneTouch Hero 2+ at MWC 2015 in Barcelona, and it appears to be a version of the OneTouch Hero 2 that was released last year. Actually, it carries a lot of the same specs as its predecessor, but the Hero 2+ does have one thing that help set it apart from last year's model.
The Alcatel OneTouch Hero 2+ will run Cyanogen OS 11 instead of Lollipop or KitKat. It's based on Android 4.4, but as anyone knows who has run it, CyanogenMod really changes things up. Aside from the OnePlus, it's the only device shipping with a Cyanogen OS straight out of the box.
In terms of the specs, the Alcatel OneTouch Hero 2+ is the same handset we saw last year. This means you're getting a 6-inch 1080p display, 2GB of RAM, 16GB of expandable storage, and a 2GHz Cortex-A7 octa-core chip. It has a stylus like its predecessor, and there's a 13MP snapper on its backside to go along with the 5MP camera on the front. The handset measures 160.5mm x 81.6mm x 7.9mm, and will get its power from a 3,100mAh battery.
The Alcatel OneTouch Hero 2+ release will bring it to US shores in Q2 of this year, and the price is quite nice. The large smartphone will only set you back $299 sans contract, and you'll be able to pick one up straight from Alcatel as soon as it's released.