Sony Xperia Z3, Z3 Compact, Z2 Lollipop update incoming for some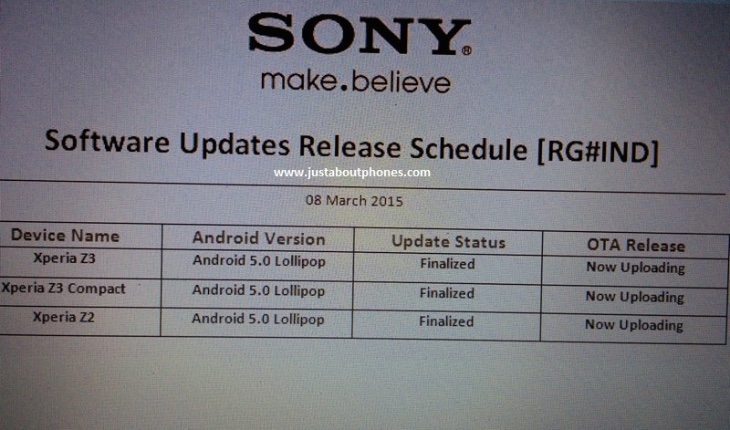 We've been following the progress of the Android Lollipop update for Sony Xperia devices since the upgrade arrived on the scene last year. We know that it's coming for the Xperia Z lines and there have been several leaks suggesting that it would start to roll out soon. Now there's some promising news as the Sony Xperia Z3, Z3 Compact and Z2 updates are incoming, for some users at least.
Last year Sony said that the Lollipop update would start rolling out for the core Z2 and Z3 series from the beginning of 2015, but so far this has failed to materialize. However last month, there was an indication that it was coming soon, when the firmware build for the Z3 passed through the Wi-Fi Alliance certification process. Now a software update release schedule has emerged from the R&D team in India.
The schedule lists the Android 5.0 Lollipop update for the Xperia Z2, Z3, and Z3 Compact and under Update Status it reads "finalized." After this there's an OTA (over-the-air) Release segment, which says, "now uploading." Thus it appears that owners of these devices in India are just about to start receiving the update at last. The update is said to be approximately 630MB in size for the Z3 or around 518MB for the Z2.
While this news refers to India we can expect that once Lollipop starts rolling out to the above devices there, it will also reach further regions soon afterwards. It can take some time to reach all markets though, and it's worth remembering that carrier models are usually among the last to receive this kind of update.
At least we now know that the start of the Android Lollipop update for these Xperia devices is imminent. We recently reported that Lollipop would sadly not be coming to Xperia devices that are not in the Z lineup. Are you happy to hear that this upgrade will soon appear for the Sony Xperia Z2, Z3 and Z3 Compact?
Source: Just About Phones
Via: GSMArena