Nexus 5 on Android 5.1 vs iPhone 6 on iOS 8.2 bootup speed test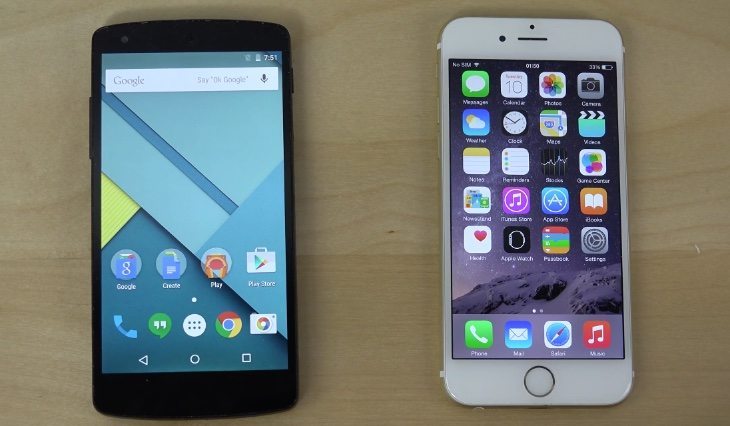 There's fierce rivalry between the Apple iOS and Google Android operating platforms, so it was no surprise when new versions were both officially announced on Monday for a public release. Apple pushed out iOS 8.2 while Google formally introduced Android 5.1 Lollipop that will come to Nexus devices first. It can often be interesting to see how these competing platforms compare, and today we have a Nexus 5 Android 5.1 vs. iPhone 6 iOS 8.2 bootup speed test for your delectation.
We've already shared a video review of iOS 8.2 on the iPhone 6, and this update offers Apple Watch support and brings several bug fixes along for the ride. On the other hand Android 5.1 brings several improvements, with just a couple being Device Protection and HD Voice Calling. It doesn't take long for reviewers to start comparing new versions and we've embedded a YouTube video below this article that you can scroll down to.
As the video is purely concerned with bootup speeds it's pretty short, but nevertheless worth taking a look at. At the beginning the reviewer points out that the official Android 5.1 update became available for the Nexus 5 before the newer Nexus 6, which some owners of the latter will have no doubt found irksome. The reviewer then goes into Settings on the Nexus 5 and iPhone 6 to show that they are indeed running Android 5.1 and iOS 8.2 respectively.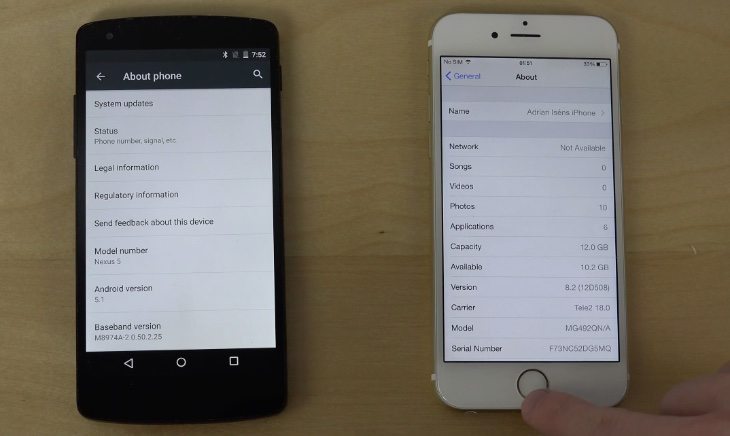 Both handsets are then turned off and then they are simultaneously powered up to pitch Android 5.1 vs. iOS 8.2 and see which device is ready for action first. There's a clear winner here although not by too much, but we won't spoil your enjoyment of the video by giving the game away! One thing we will say is that it will be very interesting to see this bootup test done again with the Nexus 6 vs. iPhone 6 when the latest Google Nexus has received the 5.1 update as well.
We'd like to hear your thoughts on Android 5.1 vs. iOS 8.2, so after you've taken a look at the video below why not drop us a comment in the box.