Huawei P8 schematics image shows measurements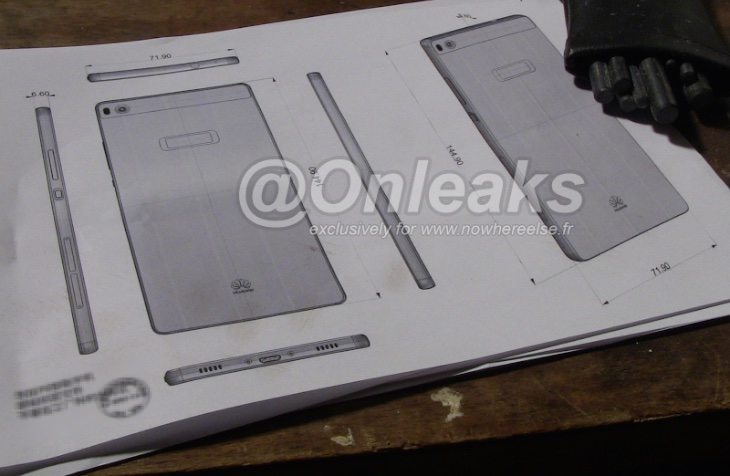 Huawei has been coming up with some competitively priced very decent handsets lately, and there have been several leaks already for the upcoming Huawei P8 smartphone. It looks set for a big unveiling on April 15 and now some images pertaining to the device have turned up to give us a little more to chew over. The leaked Huawei P8 schematics show the measurements of the device.
Previously we shared some rumored specs for the P8 and also news about the design and build from reports out of China. If the leaks so far turn out to be accurate, this is building up to be another impressive smartphone from the company. Now some photos that are claimed to be of a book of schematics for the Huawei P8 have turned up.
This gives the precise measurements of the phone as 144.9mm x 71.9mm x 6.6mm. This is an extremely slim handset then, although a little thicker than the Ascend P6 at 6.2mm and the P7 at 6.5mm. The P8 is also taller and wider than the P7, accounted for by the slightly larger display at 5.2-inches as opposed to the 5-inch screen on its predecessor.
Unofficial specs include a Kirin 930 octa-core processor, a display with 1080p resolution, 3GB of RAM, and a 2600 mAh battery. It's thought to have a 13-megapixel camera with dual-LED flash, and there's a mystery rectangular section on the reverse that could be for a fingerprint scanner.
Also the loudspeaker looks to be repositioned on the bottom rather than on the reverse, and there are two rows of holes that might or might not indicate two speakers. It's all shaping up nicely for the reveal of the Huawei P8 and you can be sure we'll let you know more as we hear it.
Are you itching to hear confirmed specs and more for the Huawei P8? Do you already think this is a smartphone that you might purchase when it releases? Send your comments to let us know.
Source: Nowhereelse.fr
Via: GSMArena