New Samsung Z1 update offers shortcut for WhatsApp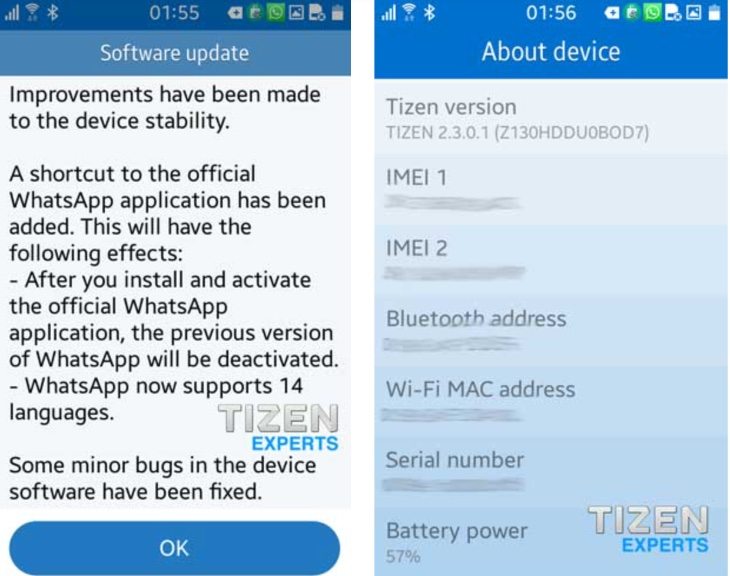 There is plenty of news lately about updates rolling out to various devices and now it's time for owners of the Samsung Z1 Tizen smartphone to receive some good news. This very popular budget phone that runs the Tizen operating system is now receiving another over-the-air update, and one of the benefits is a shortcut to the official WhatsApp app.
Samsung is making a good job of pushing out updates for the Z1 in a drive to promote its Tizen phone, and in late March we reported on the previous update to build number Z130HDDU0BOC7. Incidentally there has been enough demand for this handset in India and Bangladesh that the company is already developing a Samsung Z2, rumored for a release in the first half of this year, as well as a global Tizen smartphone.
This latest OTA update is 17.3MB in size and brings build number Z130HDDU0BOD7. It's reported to be arriving for India at present so it should also arrive for Bangladesh in the next few weeks. Among the changes it brings are stability improvements and minor bug fixes. A more notable addition is the WhatsApp shortcut and there are a couple of update notes about the effects of this.
Firstly once you have installed and activated the official WhatsApp app it will disable the previous version. Secondly there is now WhatsApp support for 14 languages. Samsung Z1 owners should receive notification of this update to their device, but can also check manually following Settings> About Device >Software Updates> Check for Updates.
Are you pleased to hear about yet another update for this phone? Maybe you are among the first to receive this latest Tizen OS update for the Samsung Z1? Do let us know as we always enjoy hearing from readers.
Source: Tizen Experts