iPhone 6 iOS 8.4 beta 2 vs Galaxy S6 Android 5.0.2 bootup speed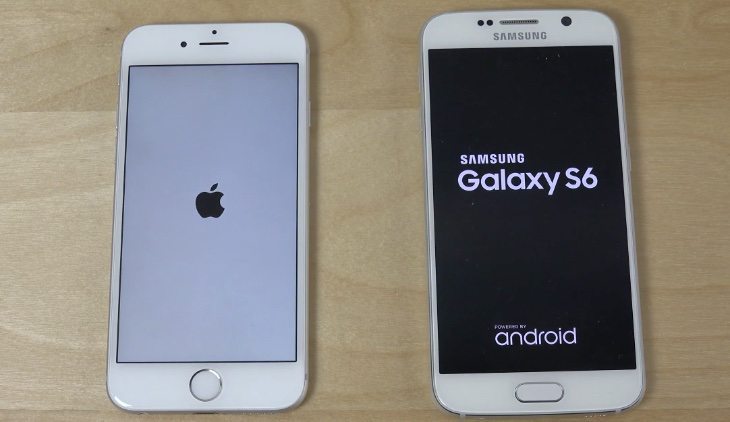 The first beta of Apple's iOS 8.4 was seeded to developers earlier this month, and one of the highlights of this next version to release is a new Music app. Yesterday iOS 8.4 beta 2 was made available for devs for testing, and the latest beta version offers bug fixes and further improvements. Now we're going to look at an iPhone 6 on iOS 8.4 beta 2 vs. Samsung Galaxy S6 on Android 5.0.2 Lollipop in a bootup speed test.
It can be intriguing to see how flagship devices compare in particular aspects, and we've already considered the iPhone 6 vs. Galaxy S6 in a specs comparison, plus a camera comparison and more. A short bootup test can also be interesting as it considers everyday usage of a device. With both phones running the latest iOS and Android versions we'll see which is the fastest to be ready for action.
Before we begin it's worth noting that the specs of the iPhone 6 include a 1.4GHz Apple A8 dual-core processor, a 4.7-inch IPS LCD display with resolution of 1334 x 750, and 1GB of RAM. On the other hand the Samsung Galaxy S6 has top-flight specs that include an Exynos 7420 octa-core processor, 5.1-inch Super AMOLED display with resolution of 2560 x 1440 (Quad HD), and 3GB of RAM.
We've placed a YouTube video below this article of the bootup test with the two phones shown alongside each other. You'll see both devices simultaneously powered up to see which is up-and-running first. It's a very tight race but there is a winner, as you'll see when you view the video below. The reviewer also goes on to show that the iPhone 6 is indeed running the latest beta of iOS 8.4 and gives a quick look at the new-look Music app. The Samsung flagship is then shown to be running Android 5.0.2 and there's a further brief look at both phones.
It will be extremely interesting to see this test run again with the final build of iOS 8.4 when it releases to the public, as there may have been further optimizations by then. For now we'd be interested to hear your thoughts, so do send us your comments on this bootup test involving the iPhone 6 and Samsung Galaxy S6.