Sony Xperia M4 Aqua vs Xperia C4 Dual specs breakdown
It's easy to focus on the smartphones at the top end of the market as well as budget handsets at the lower end, but there are also plenty of decent mid-range devices on offer. The Sony Xperia M4 Aqua and Sony Xperia C4 Dual are both recent arrivals that will be heading to various regions worldwide and pricing is not expected to be too far apart. Therefore today we thought we'd compare the Sony Xperia M4 Aqua vs. Xperia C4 Dual SIM smartphones in a specs breakdown.
Both of these are Android mid-rangers with plenty to offer, but there are also numerous differences between them. We're comparing the dual SIM versions of each of these devices although they are both also come in single SIM models. The Xperia M4 Aqua has already released to some markets while the Xperia C4 is set to arrive in June. Let's check out the key specs and more.
Processors
The Sony Xperia M4 Aqua Dual has a Snapdragon 615 octa-core processor (four cores at 1.5GHz and four cores at 1GHz) and Adreno 405 graphics. The Sony Xperia C4 Dual is equipped with a 1.7GHz MediaTek MT6752 octa-core processor and a Mali-T760MP2 GPU.
Display
The Xperia M4 Aqua has a 5-inch IPS LCD display with HD resolution of 1280 x 720 resulting in 294 ppi. The Xperia C4 Dual has a 5.5-inch IPS LCD display with Full HD resolution of 1920 x 1080 and 401 ppi.
RAM and Storage
The Sony Xperia M4 Aqua has 2GB of RAM and models of 8 or 16GB of internal storage that can be expanded via microSD to 32GB. The Xperia C4 has 2GB of RAM and 16GB of internal storage, this time expandable to 128GB.
Camera set-up
There's not much to divide them here as both phones have a 13-megapixel rear camera with autofocus, LED flash, and 1080p video capture. Also they both have 5-megapixel front-facing cameras although the Xperia C4 has LED flash for this whereas the M4 Aqua does not.
Battery
Both phones have non-removable batteries. The Sony Xperia M4 Aqua has a 2400 mAh battery while the Xperia C4 has a 2600 mAh battery.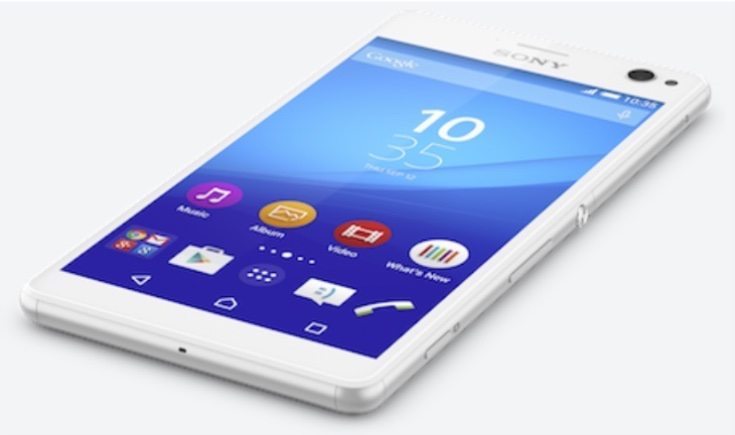 Connectivity
Both support 4G LTE, WiFi 802.11 a/b/g/n with WiFi hotspot, WiFi Direct and DLNA, Bluetooth 4.1, NFC, GPS, and microUSB 2.0.
Operating System
The Sony Xperia M4 Aqua and C4 Dual both run Android 5.0 Lollipop.
Dimensions and Weight
The Xperia M4 Aqua measures 145.5mm x 72.6mm x 7.3mm and weighs 135g. The Xperia C4 measures 150.3mm x 77.4mm x 7.9mm and weighs 147g.
Price
Pricing will vary by individual market and also retailers. As an example we'll give price indications for these phones in India as both have just launched there and this is a region where dual SIM smartphones are in high demand. The Sony Xperia M4 Aqua Dual with 16GB of internal storage was announced at Rs. 24,990. The Sony Xperia C4 price has not yet been announced, but we've seen price expectations from around Rs. 25,000 to Rs. 28,000.
Extras
The Sony Xperia M4 Aqua has a distinguishing factor in that it's dustproof and water-resistant to IP68 certification standard.
On the face of it the Xperia C4 has more benefits as far as specs are concerned. As a few examples the C4 has a faster processor, a larger display with higher resolution, a higher level of expandable storage, and a higher capacity battery. Some may prefer the smaller size of the Sony Xperia M4 Aqua though, and of course its waterproof qualities. Ultimately it could also come down to the price difference between the two handsets when the price of the Xperia C4 is finalized. However, unless you particularly want a water-resistant handset it seems worth paying slightly more for the C4.
When you've had time to consider all of the above we'd be interested to hear your verdicts on these two smartphones. Would you be more likely to purchase the Sony Xperia M4 Aqua or the Xperia C4 Dual? We always appreciate your comments.