Nexus 5 Android 5.1.1 vs Nexus 6 Android M bootup speed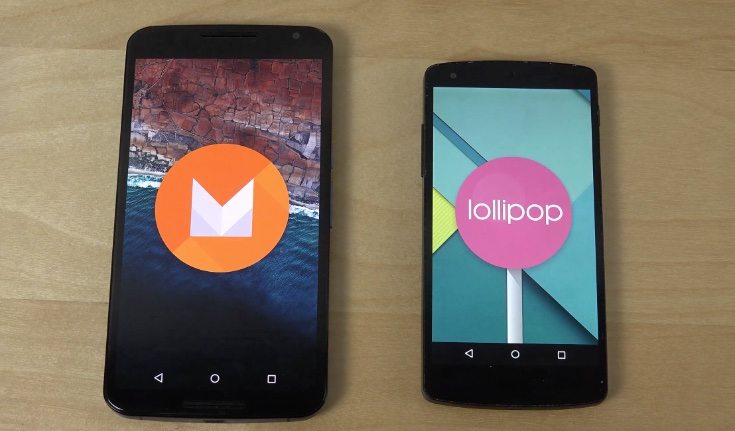 The tech world has been buzzing about the Android M news from Google last week. It is already available as a developer preview for some Nexus devices, although it won't be ready for a public release until later in the year. It's always interesting to compare different versions of Android and today we're looking at the Nexus 5 on Android 5.1.1 vs. the Nexus 6 on the Android M update preview in a bootup speed test.
Previously we've detailed some of the main points about Android M, and yesterday we shared a video preview of the Nexus 6 running Android M in a first taster. This time we're seeing how fast the Nexus 5 is when booting up compared to the Nexus 6, in a video from one of our favorite YouTubers Adrianisen. We've embedded the YouTube video below this article so you can see it when you scroll down the page.
You'll see the much larger Nexus 6 running the Android M preview on the left and alongside it on the right is the Nexus 5 running Android 5.1.1 Lollipop. The reviewer shows both of these Google Nexus devices being powered up and it's actually the older but still hugely popular Nexus 5 that is ready for action first. In fact, the Nexus 5 beats the Nexus 6 by quite some margin, as you can see when you check out the video.
We should point out though that Android M is far from being the finished article so performance may change by the time it reaches a final release. Nevertheless it's a notable win for the Nexus 5 this time around. It will be interesting to see this same test run again with the Nexus 5 on Android M. After the bootup test the reviewer goes on to show some of the differences between Android M and Android Lollipop on the two phones, handy for a concise comparison.
Are you looking forward to checking out Android M on your own Nexus device? What are your thoughts on the results of this bootup speed test on the Nexus 5 and Nexus 6? Drop us your comments in the usual way.
https://www.youtube.com/watch?v=ypIw0KhJi9c://