iPhone 6 on iOS 9 beta 1 vs iOS 8.4 beta 3 bootup speeds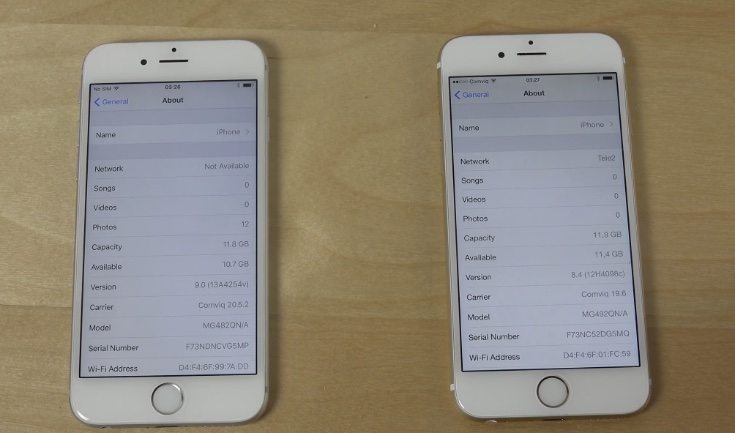 Although iOS 9 won't make a public release until fall, the first beta has already seeded to developers. Although many are focused on iOS 9 it's worth pointing out that iOS 8.4 will be the next version of Apple's mobile operating system to release. It can be interesting to see how speeds compare with different versions, and today we're showing the iPhone 6 on iOS 9 beta 1 vs. iOS 8.4 beta 3 in a quick bootup test.
We reported yesterday that iOS 8.4 will release on June 30 and focuses on the new Apple Music service. We also gave details of the basics of iOS 9 including device compatibility, storage requirements and more. Now it's time to take a look at iOS 9 beta 1 in action against iOS 8.4 beta 3.
Below you'll see a YouTube video that we've embedded. It comes from regular YouTuber Adrianisen, and on the left you'll see the iPhone 6 that is running the first beta of iOS 9 while on the right is another iPhone 6 unit running the third beta of iOS 8.4. The handsets are simultaneously powered up to see what one is ready for action first. The phone running iOS 9 is the winner, although the difference is barely noticeable. However, by the final build there could be further improvements in speed.
After the test the reviewer heads into Settings on both devices to show that they are indeed running these versions of iOS and then goes on to show some of the differences. For example it's evident that Siri is much faster on the iPhone running iOS 9. While the basic look of these versions remains very similar, we've also previously shared a video concentrating on the best new features of iOS 9 that you might also like to take a look at.
Please feel free to send your comments about iOS 9 and iOS 8.4. Which features are you most waiting for?
https://www.youtube.com/watch?v=ieXFraXGY1w://