iPhone 6 iOS 9 beta vs Nexus 6 Android M preview bootup test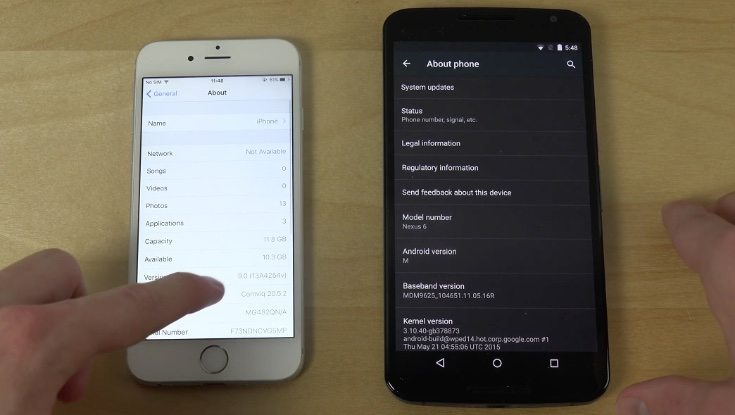 Recently Apple released the first beta of iOS 9 to developers while Google has also made an Android M preview available. Both of these major upgrades for the respective operating systems will release to the public later in the year, but for now we can have some tasters of what they will offer. Today we're looking at an iPhone 6 on the iOS 9 beta vs. Nexus 6 on the Android M preview in a bootup test and more.
Previously we've shared a preview of Android M on the Nexus 6 and also a comparison of bootup and Internet speeds of the iPhone 6 vs. other iPhones on iOS 9 beta 1. Now we have a video to show readers of the latest iOS and Android software versions against each other. The YouTube video embedded beneath this post for your viewing convenience comes from regular contributer Adrianisen.
It begins with showing the two smartphones alongside each other with the iPhone 6 looking very small compared to the beast that is the Motorola Nexus 6. Both are then powered up simultaneously to see which is ready to go first. There's a very clear winner here but we're not going to ruin the video for you by telling you the result right now.
After the bootup speed test the reviewer then proceeds to show some of the differences (and in some cases similarities) between iOS 9 beta 1 and the Android M preview. This includes opening up some apps, multitasking, features and more. The reviewer also heads into Settings to show that the handsets are definitely running the operating versions stated (as shown in the image below).
It's worth pointing out that these are not final builds of iOS 9 and Android M so there are likely to be more changes and improvements made before the final release to end users. When you've checked out the video below it would be good to hear your thoughts. Are you surprised at the winner of this bootup testing involving the iPhone 6 and Nexus 6? Drop us your comments in the box.
https://www.youtube.com/watch?v=gQ49ct2qcmI://