Moto X Pure Edition release date seemingly revealed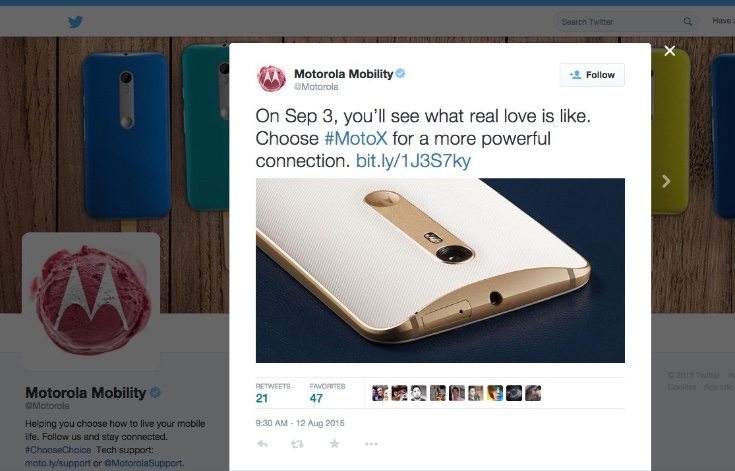 At the end of last month Motorola announced the flagship Moto X Style, to be known as the new Moto X Pure for the US market. The Pure Edition is likely to be popular stateside, although at the official launch Motorola didn't say exactly when it would become available. Wait no more, as the new Moto X Pure Edition release date seems to have been revealed and there are only a few more weeks to wait.
You'll want to mark the availability date of the new Moto X Pure Edition as September 3 on your calendar, although there is a caveat to this. This information was posted on Motorola's official Twitter account but has since been deleted. This is likely to be because the Pure Edition release date was not supposed to have been given yet. Alternatively it could be that this date was incorrect, although if that was the case we imagine it would have been replaced with another date.
The Moto X Pure Edition has the same specs as the Moto X Style for other regions, so you might be interested in a concise comparison of it against the iPhone 6S Plus that we shared earlier. Those specs include a Snapdragon 808 hexa-core processor, a 5.7-inch display with Quad HD resolution of 2560 x 1440, 3GB of RAM, and internal storage options of 16, 32 or 64GB (expandable via microSD). It has a 21-megapixel rear camera, 5-megapixel front-facing shooter, and a 3000 mAh battery, and it runs the Android 5.1.1 Lollipop operating system offering a virtually stock Android experience.
Specifications are certainly nothing to sniff at then, and the Moto X Pure Edition can also be customized using Moto Maker to your own requirements. The phone is being sold exclusively online via Moto Maker and will be compatible with all of the main US carrier networks. The price for the unlocked Moto X Pure starts at $399.99.
Are you eager to get your hands on the new Moto X Pure Edition? Let us have your comments about this new Motorola smartphone.
Source: Motorola Twitter (since pulled)
Via: Android Central