Nexus 5 2015 live photo of LG handset emerges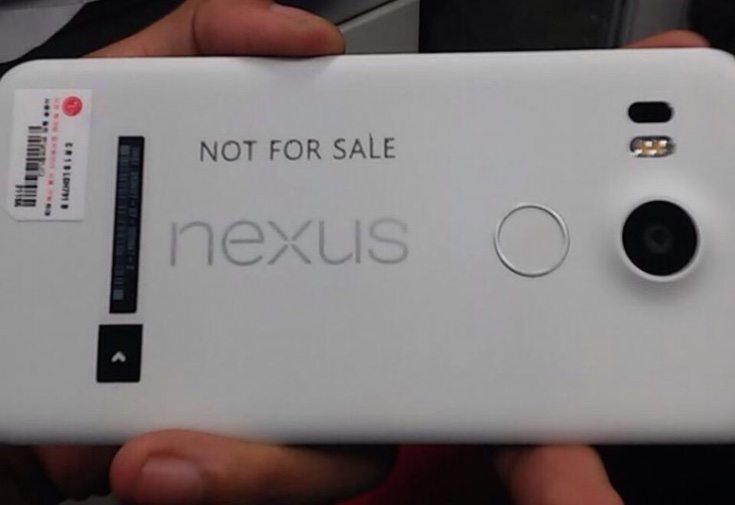 Speculation is mounting for the new Nexus 2015 smartphones. We know that there will be two on the way, a smaller handset from LG and the other by Huawei. Over the last week renders have been doing the rounds, and now a new Nexus 5 2015 live photo of an LG handset has emerged that purports to be a prototype.
We've seen a glut of design ideas for the upcoming Nexus phones over the last few months as well as leaked specs and more, but even the names have not been confirmed at this point. However, back in July an alleged benchmark of the LG handset dubbed it as the Nexus 5 2015. Now the new image of the LG Nexus 5 2015 shows us the rear of the much-anticipated handset in white and marked 'Not for Sale.'
The phone in this image does appear to tie in with leaks and renders so far and it reveals a plastic casing. There's a slight hump to the camera and below it we can see a circle that is likely to be the rumored fingerprint sensor inclusion. The familiar Nexus branding is clearly evident and there's also a sticker on the casing bearing the LG logo.
While we cannot confirm the authenticity of this photo it's certainly plausible that it represents the new LG-made Google Nexus 2015. It follows on from a specs leak earlier this month for both the LG and Huawei versions of the new Nexus devices, although that suggested a metal build for the LG phone. Rumored specs of the LG Nexus so far include a 5.2-inch display, front-facing speakers and USB Type-C.
The phone is also said to have a 16 or 20.7-megapixel rear camera with laser autofocus, and the new image also shows the rumored dual-LED flash. It will be running the upcoming Android M release, and expectations are that the new Nexus 2015 smartphones will be officially revealed in the later part of October.
You can bet we'll be seeing and hearing plenty more about the next Nexus devices over the next few weeks. In the meantime we'd like to hear your thoughts on this image allegedly showing the LG Nexus 5 2015? Would you be happy for this to be the new Nexus smartphone?
Source: DroidFeed
Via: Phone Arena