OnePlus 2 vs OnePlus One, premium or saving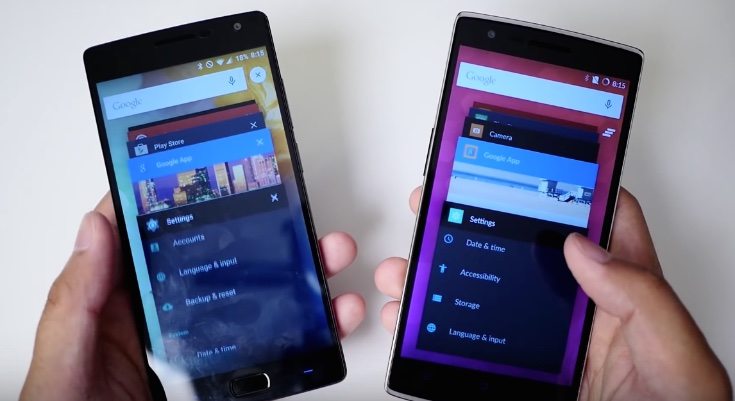 There will be many Android smartphone fans thinking of buying the OnePlus 2 that recently released. Some may be thinking of upgrading from its predecessor the OnePlus One, while others may be wondering whether to save money by purchasing the One rather than the new OnePlus 2. It's time for a OnePlus 2 vs OnePlus One comparison that may help you to decide whether to go for the premium or the saving.
We've already looked at a brief comparison of the OnePlus 2 vs iPhone 6 Plus, and the video we're showing today offers a fuller look of the new OnePlus smartphone. The YouTube video comes from Android Authority and is a 10-minute account of the OnePlus 2 vs OnePlus One. It attempts to answer the question of whether the new version offers that much more than the original, especially considering the cheaper price of the OnePlus One now.
The OnePlus 2 is $329 for the 16GB version or $389 for the 64GB model. Meanwhile the 64GB option of the original is for sale on OnePlus at $299. The comparison begins with checking out the designs of the two OnePlus phones, with the more premium look and feel of the OnePlus 2 noted here. You'll get a close look at both handsets alongside each other from various angles before the review moves on to the displays of the phones. This is followed by discussing their performances, with the reviewer saying that this is an area where the update with the OnePlus 2 is most evident.
Further aspects covered by the video comparison include hardware, batteries, camera capabilities (with image samples), and the software experiences on offer. During the conclusion we hear a brief summary of some of the additional features and upgrades of the OnePlus 2 that you might feel are worth spending the extra money on over the OnePlus One. Saying that, the reviewer also points out that the original OnePlus is still a good choice, and ultimately your choice may come down to how much you want to spend.
Before making up your mind we'd also urge you to take a look at recent battery life testing on the OnePlus 2 and how it compares in this respect with some other top smartphones. When you've viewed the OnePlus 2 vs OnePlus One comparison below this article we'd be pleased to hear your thoughts. Do you think the OnePlus 2 has enough about it to make it worth the extra money, or will you save by buying the OnePlus One?
https://www.youtube.com/watch?v=qgeXqoDcZZc://